Founded in 2007,
Blu Homes
is an innovator in the construction industry. The company designs and builds eco-friendly prefab homes with the highest green standards, creating a healthy environment to live in and a more sustainable future due to key features in each structure, such as energy efficiency and better ventilation. However, Blu Homes also goes to great lengths to ensure that its buildings create less waste, are less destructive to the natural habitat and that the open floor plans allow for the spaces to feel larger than they are, resulting in a modern and economical home. Perhaps one of the most appreciated elements of Blu Homes' designs is the focus on incorporating as many recycled and renewable products as possible. While many construction companies usually build from materials that are cheap and easy to acquire, Blu Homes takes the time to incorporate previously used materials into the houses.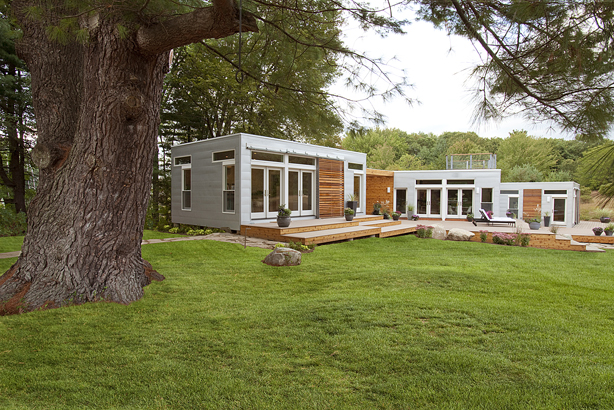 Additionally, utilizing an off-site factory for construction in Waltham, MA, allows the company to reduce waste and use fewer materials overall, which results in approximately 50% to 75% less waste during construction. Plumbing, electrical wiring and even appliances are installed at the factory, and then the finished house parts are shipped to building sites around the country. Blu Homes are designed to use fewer materials and to use interior space wisely, and are intended for longevity, flexibility and healthy living. Per Blu Homes' website, other key elements of the design include:
Renewable materials: Bamboo, because it grows so fast and easily, is a wonderful renewable material and one we use for our flooring. Long-lasting and low maintenance: Our proprietary steel & wood hybrid framing is durable and designed to withstand even the harshest weather conditions, and streamlined cedar v-groove & durable cement board siding means less upkeep and more time to enjoy your family and friends. Re-use: When possible, we incorporate previously used materials into our houses. Recycled paperstone countertops and recycled glass tiles are options in all of our homes.
All homes are
LEED
certified, depending on the finishes, and other eco-features include stainless steel
Energy Star
appliances, metal roofing with 50-year lifespan equipped for solar hot water and
photovoltaic
energy generation, foam insulation, low- or no-
VOC
interior primers and paints and
low-flow
water fixtures. Another cool feature to Blu Homes is that the designs are created with your future in mind as well. With seven designs to choose from, they can be added onto as a family grows, or even packed up and transported elsewhere. For example, if you decided to move to a different area of the country with a bigger plot of land and would like to expand, that isn't a problem with Blu Homes. Your "addition" can easily be shipped and will be waiting for you in your new location. If you're looking to purchase a new home, definitely consider a design from Blu Homes. They are able to be shipped anywhere in the U.S. and we like that it's an affordable option for both young and retired homeowners. In addition to an intuitive online process, which includes choosing an online floor plan and visualizing how your house is "sited" via Google Earth, Blu Homes also offers
seminars, webinars and open houses
throughout the year.. Homes range from the low-cost
Origin
starting at $109,000 for a completed home, to the single-story
Element
, which starts at $125,000, to the
Balance
, starting at $270,000. You can expect it to arrive on a flatbed, 90% complete, in as little as five to seven months after your initial purchase order.