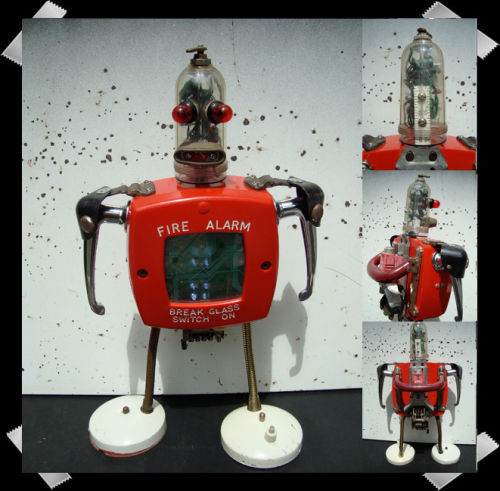 "Firefly" All images courtesy of Martin Horspool and used with permission.
According to the man himself, New Zealand-based artist Martin Horspool is, "one of the few people lucky enough to be able to visualize personalities, hidden in disused household objects." And a look at the following junk creatures will show that souls do indeed seem to reside in these metallic bodies. For example, with his broad mouth, red LED eyes and fire alarm body, "Firefly" is a truly bizarre yet also lovable creation — not to mention an amazing example of what can be achieved through creative reuse!
"AC/DC Davies"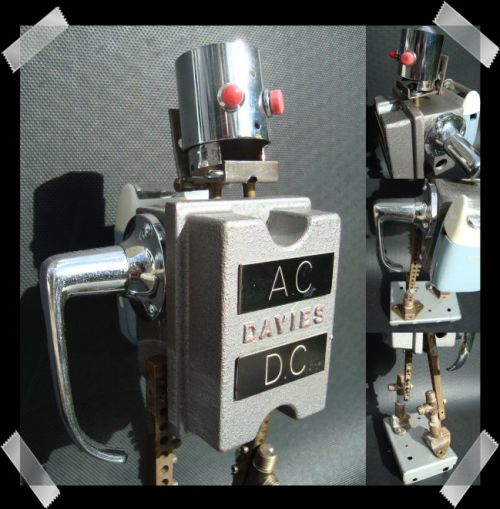 Horspool takes a diverse range of household objects — everything from vintage lamps, electrical components, fridge parts and saw handles, to kitchen utensils, fans and bicycle parts — and brings them back to life as junk robots. Shining through in all his creations is the artist's passion for 1950s and '60s industrial design. "AC/DC Davies" is a packrat who has proudly incorporated everything he has amassed into his body: door handles, what looks like an old electric shaver, a retro power converter and other metallic odds and ends.
"Sheridan"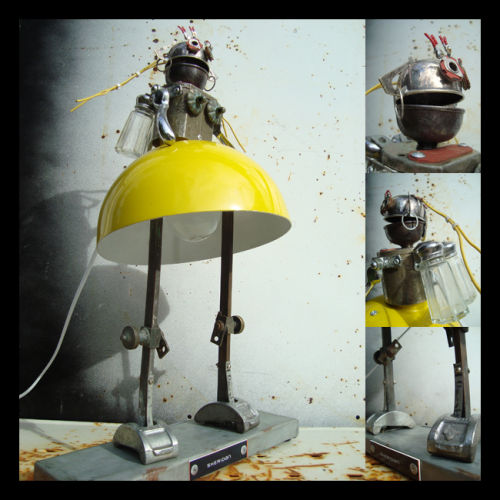 And you just gotta love "Sheridan." This cool creation comes with a yellow hoop skirt courtesy of an old lamp. The wings were once a pair of salt and pepper shakers and the eyes vintage knobs. What's not to love?
"Dodge Brother"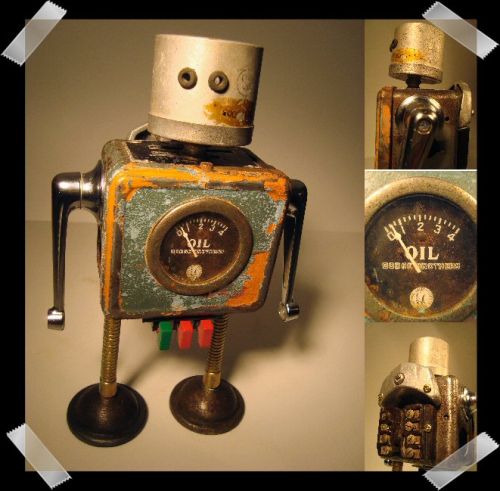 "Dodge Brother" is an old-school warrior — though one whose armor isn't shining anymore. His helmet is scratched and dented, and the whole knight is in desperate need of lubrication, as his low oil level indicates. Still, the spirit of recycling is strong in this one.
"Kozyaire"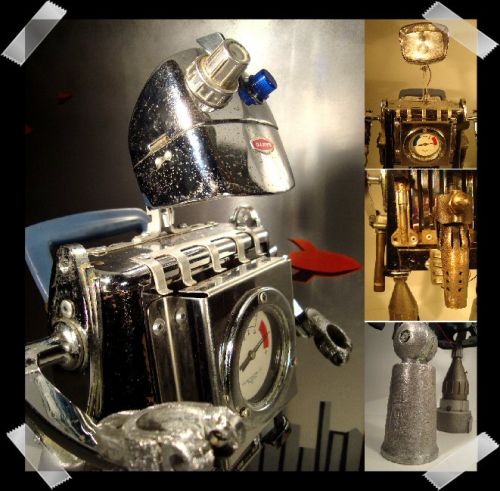 Speaking of mighty warriors, "Kozyaire" here is one charged-up character, as his gauge indicates. We're not sure if it's measuring pressure or temperature, but either way, it's in the red! Looking at us out of one silver and one blue eye, this robot's not to be messed with. Is that a hole punch providing extra armament on his back? Scrap door handles, vintage whisks, window fasteners, old typewriter parts, shoe lasts, rusty spanners, garlic crushers, old clips, retro lamp bases, paint scrapers, broken umbrellas, retro can openers, early shaver parts and even sugar tongs (phew!) all work brilliantly for the arms and legs of Horspool's junk robots. The artist's collection of materials, all ripe for repurposing, sure is impressive!
"Dewi Buzz"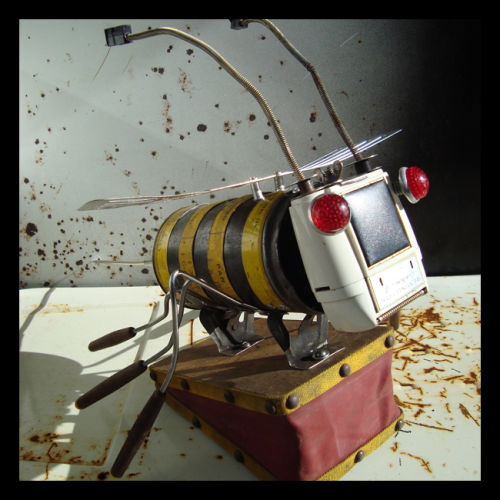 "Dewi Buzz" is the most adorable little bee made of vintage parts you could ever imagine. The yellow-and-black striped body seems to have been a can or keg of some sort, the eyes lustrous red buttons and the head some kind of recycled resistor or old switch. And, for extra propulsion, Dewi rests on some antiquated beekeeper's bellows.
"Grinderman"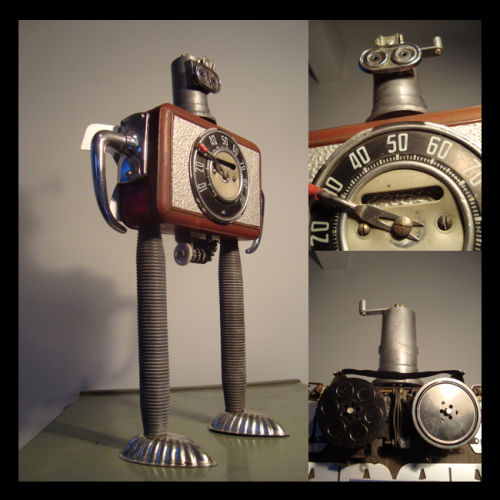 As the name suggests, "Grinderman" is made out of parts of an old meat grinder (check out the handle on his head!) but also much more: old door handles for the arms, a box for the body and what looks like an old speedometer dial. Intriguing! And for sale, too! Where does Horspool find his treasures? By the side of the road, at flea markets and in car trunks, scrap yards, antiques shops and auction houses. Over the years, he admits that he "has stockpiled a collection of components to make any magpie jealous." We're glad he did, as this is some admirable recycling and repurposing.
"Vortexion"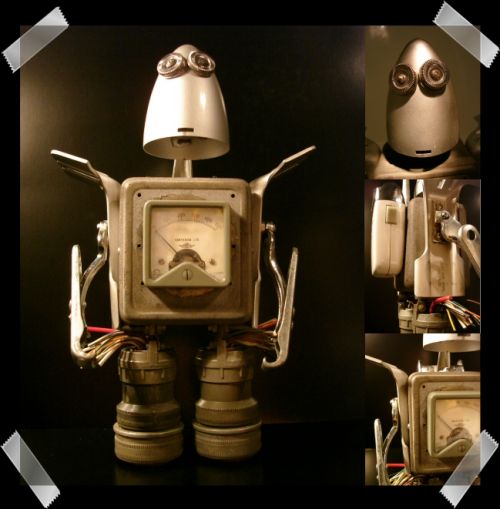 "Vortexion" here is a tough little fella whose head was once a bicycle lamp and whose eyes came courtesy of an old shaver. Other "ingredients"? A switch box, an old gauge, window latches, ice trays, retro bottle openers and electrical fittings. Can you find them all?
Ro-Beco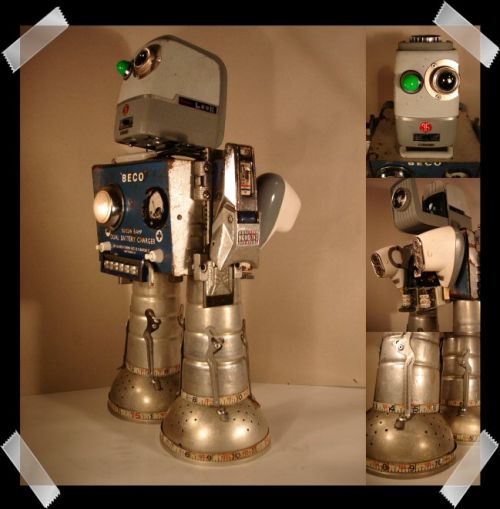 Horspool admits that his search for objects has become an obsession. What's more, interestingly, the found objects determine the piece, rather than the other way around. The artist explains that his "collection of discarded paraphernalia becomes the catalyst for the creation process." Kitchen utensils and a vintage battery charger, for example, were assembled to give life to "Ro-Beco" — one awesome bot.
Mr. Krups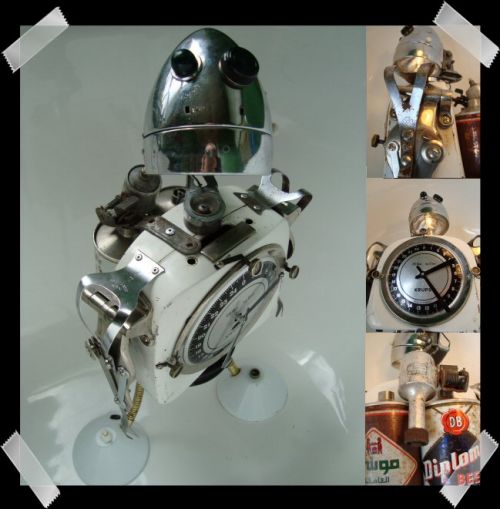 As his name suggests, Mr. Krups' body comes courtesy of an old set of Krups kitchen scales. Don't miss the mechanism on his back, made out of an old bicycle dynamo and a couple of discarded cans. Cool stuff and awesome recycling!
"Sharpie"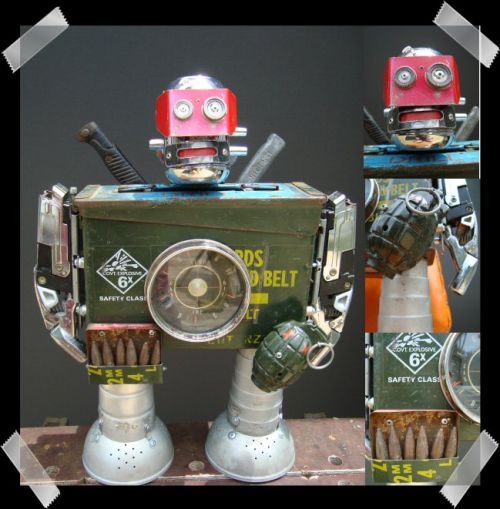 "Sharpie" is the militant one among Horspool's junk robots. He has a mini hand grenade, knives and other weaponry handy. This green warrior looks like he's always ready for action!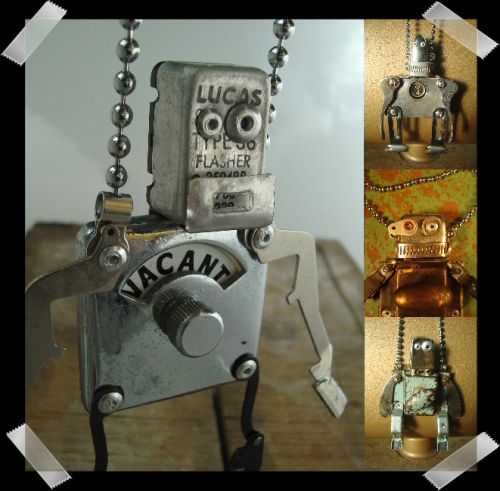 If you're into jewelry, these unisex necklaces might be just what you've been looking for. Little robots become pendants, their bodies made from odd objects such as old vacant/engaged toilets locks, and arms and legs from angle brackets. Check out their cute but slightly grumpy-looking eyes. Like any of these pieces of recycled jewelry? Inquire with Horspool, as they're for sale.
"McFly"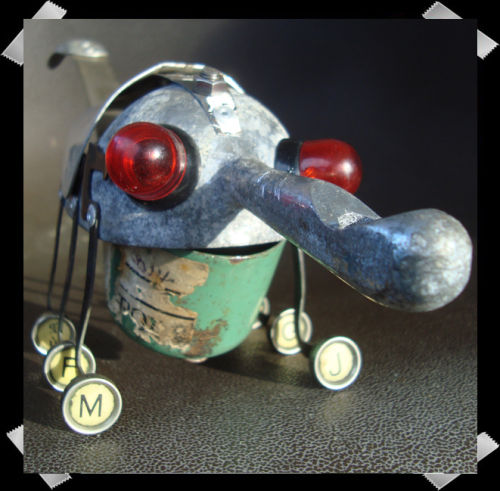 We hope you're inspired now to make your own junk bots. Just remember that antique knobs, old switches and even tea strainers make for great face accessories. And you can create the heads out of discarded oil cans, coffee pots or even a kettle whistle. Just look at "McFly" here. He's another adorable creation who owes his long nose to an old ice scoop and six legs to a vintage typewriter. Very creative! Martin Horspool, originally from Wales, attended art colleges in Wrexham, Wales, and Liverpool, England. Now living in New Zealand, he has held sell-out exhibitions and regularly sells to collectors in London, New York, Europe and Japan. Make sure to take a look at his
website
for more amazing creations.