Indoor and outdoor fireplaces: Regardless of which you prefer, these home additions can create a magical atmosphere for winding down alone or for stirring up chatter and memories among friends and family. As long as the element of fire is present, it's all about the resulting ambiance. However, you probably never imagined enjoying the warmth and soft glow of a fire without byproducts like smoke, odors and other pollutants. But fireplaces have been reinvented from the inside out with bioethanol fuel, so it's possible to indulge in a fire at home without feeling guilty about the negative environmental effects. For the most part, bioethanol fireplaces run off of
Fanola
, which is an organic,
ethanol
-based product. This fuel is considered a clean fuel, because its only byproducts are heat, water vapor and a small amount of carbon dioxide. One theme rings true among bioethanol-fueled fireplaces: Many brands design with a contemporary edge in mind. However, if you desire a more rustic or traditional-style fireplace made from brick or stone, it's possible to purchase fireplace inserts, so you can build the foundation and framing of your dreams as long as the material is fireproof. Or, simply convert your existing gas or wood fireplace into an ethanol one.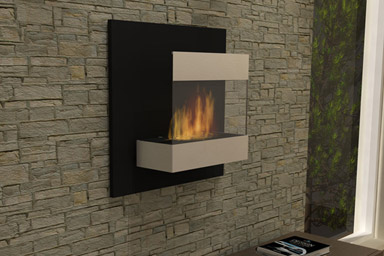 EcoSmart Fire features an award-winning assortment of bioethanol fireplaces that don't require a flue or even an existing fireplace structure. This company has a wide array of choices, from fireplace inserts to whimsical outdoor fireplaces. The
Stix
design mimics the look of campfire but replaces wood with stainless steel tubes. The collection of designer fireplaces is unique as well, and these models serve double duty, as they can also function as home décor accents. The
Zeta
model embodies an impressive crescent shape that looks stunning indoors and patio side.
Chantico Fire
puts dancing flames into a more minimalist design that is elegant for any type of space. From stainless steel to stone bases, these models harness the flame behind a cylindrical piece of glass. You can even add the
Spa Kit
, which includes natural essential oils (fir, orange, rosemary and cinnamon) that can be added to Chantico Fire models to infuse a pleasant scent into the air. Another intriguing bioethanol fireplace manufacturer is
Pureflame
. Many of the freestanding designs look out of this world. Take the
Vulcan
, for example. This model is elevated for everyone's viewing pleasure, and it features a unique capsule-like shape. The pieces are even perfect for arranging near a hot tub or pool or onto a coffee table.
Anywhere Fireplace
works differently, as it functions off of OZOFire bioethanol fuel, which claims to be the most eco-friendly fuel available, since it is made from recycled post-consumer materials. OZOFire-fueled fireplaces also do not require a chimney or flue, and smoke, odor, soot and ash are not a part of the experience either ??? water vapor and carbon dioxide are the only byproducts. On the contrary, Fanola is made from denatured ethyl-alcohol, which has to go through a triple-rectification process, while OZOFire's main ingredient is a natural plant derivative. Anywhere Fireplace includes a wide variety of brushed stainless steel wall-mounted designs, as well as tabletop fireplaces for indoor and outdoor use. Any of these fireplaces can accommodate your personal style and existing home décor, but it is important to weigh in on the fuel source before committing to the purchase.