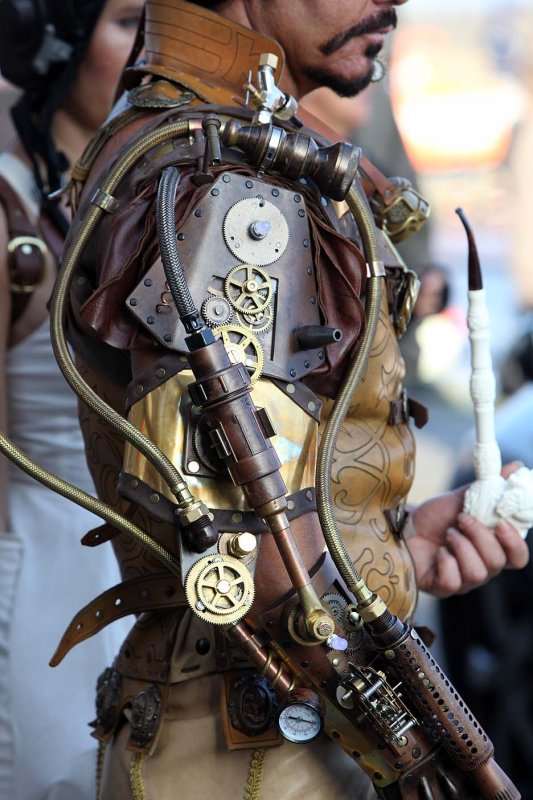 Image: Steampunk Overlord
All images courtesy of the artists and used with permission.
Cosplay has turned seriously pro, as these awesome steampunk costumes prove. Any knight would be proud to own one of these sets of armor; though we suspect a time-traveling Templar would be ill at ease with all the anachronistic bits and pieces he'd be wearing…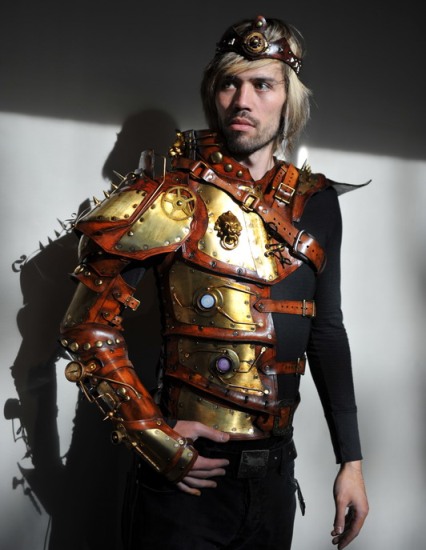 Image: Ian Finch-Field/Skinz-N-Hydez
But the best bit is, with a bit of innovation and skill, you yourself could be that knight, as it's possible to replicate these sets of armor if you're into upcycling your own leather and brass pieces into something so cool as to be almost timeless.
Image: Steampunk Overlord
For those who don't ride into battle that often — especially not in full gear — let's refresh our memories on what some the most crucial pieces of armor are: one, the breastplate, to buffer blows and protect the heart, sometimes backed up by a nice (and heavy!) chain mail vest; two, spiky gauntlets, which not only protect the knight's hands, but can also deliver painful blows (ouch!); third, pauldrons, to protect the shoulders and arms (probably a good idea!); and lastly, tassets, which cover the upper legs and lower abdomen (very important!).
10. Steampunk Sky Captain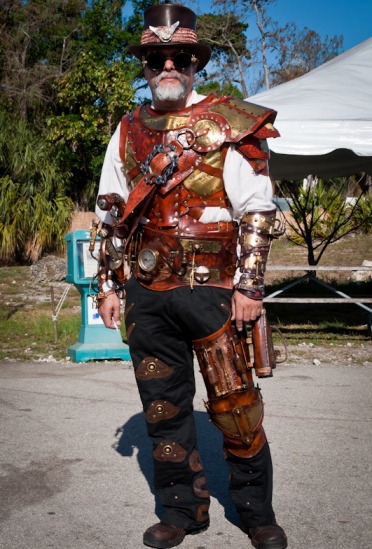 Image: Ian Finch-Field/Skinz-N-Hydez
The "Sky Captain" pictured here has gone all out to present himself in his best battle gear. This left-handed fighter is protected by an ornate breastplate, vambraces to protect his forearms, leg guards and a thick waistband complete with a repurposed gauge and a timepiece. Discreetly tucked into the armor are the captain's weapons: a pistol, sword and what looks like a baton, as well as various other pieces of equipment and tools.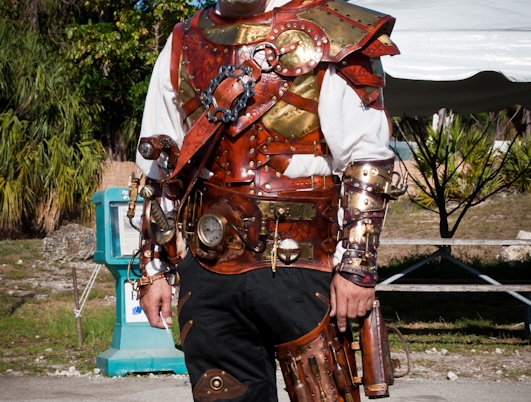 Image: Ian Finch-Field/Skinz-N-Hydez
As any piece of armor is actually made up of various smaller pieces, this type of costume is perfect if you have many bits of leather or fabric lying around at home. What's more, there's no limit to the number of accessories that can be added. This is steampunk, after all, so whatever your garage, attic or toolbox provides will certainly make a great start. Then you can begin to think about looking half as cool as this guy!
9. Steampunk Pauldron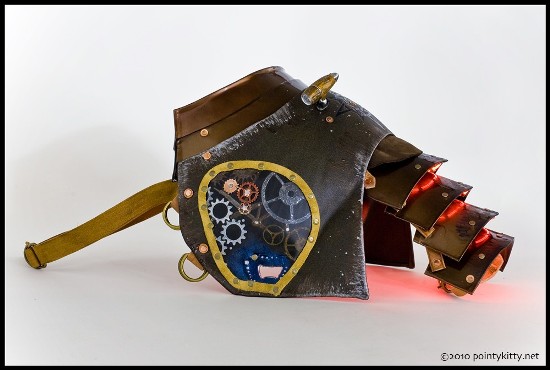 Image: Techdragon
This pauldron is made from 22-gauge mild steel and has a sprayed and brushed powder-coat finish. Some of its special features are especially cool; among them, a bottle opener (very handy!), a speaker system and lighting with EL ground effects under the arm plates. If that's not retro-futuristic, we don't know what is! Above, you can see the lights in action, and below the piece as it looks when worn, viewed from both the front and back.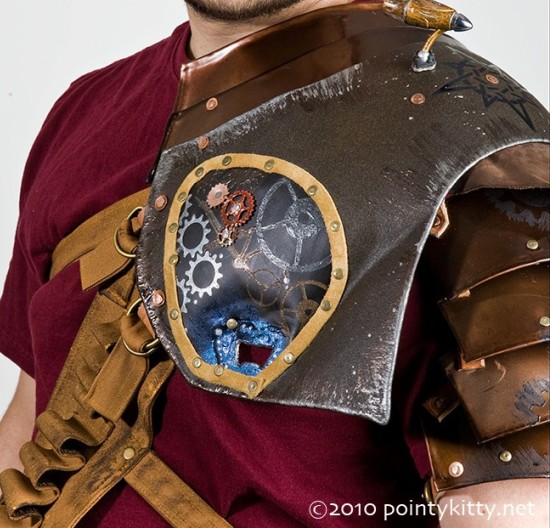 Image: Techdragon
Though the special features may not be authentically medieval (of course, that's not really the aim!) in other respects this piece of armor is the real deal. Pauldrons were usually worn for mounted combat, whether in a tournament or a field battle, to protect the shoulder, armpit and arm that was being used for fighting; and they were meant to be asymmetrical, so there was usually space cut away to make room for a lance rest.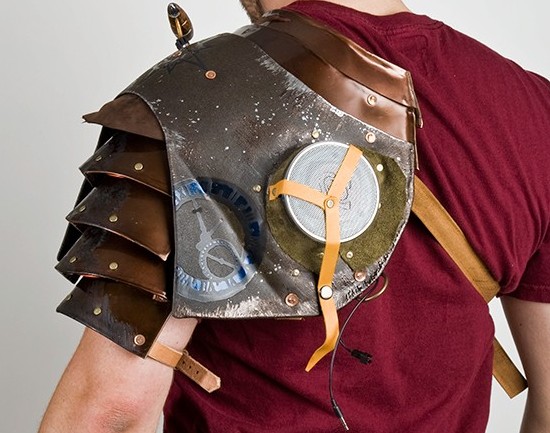 Image: Techdragon
Just as in days of yore, when each piece of armor was custom-made, so this pauldron is also made to order. Says creator Jeanie Davan: "We welcome design input and appearance modifications — this is a custom-made piece and will be done to your specifications." Sounds good to us! How about an iPod charger somewhere in there to allow you to play some nice battle music in private? Meanwhile, we're off to the scrap yard to see what steel they have to spare!
8. Baroque Breastplate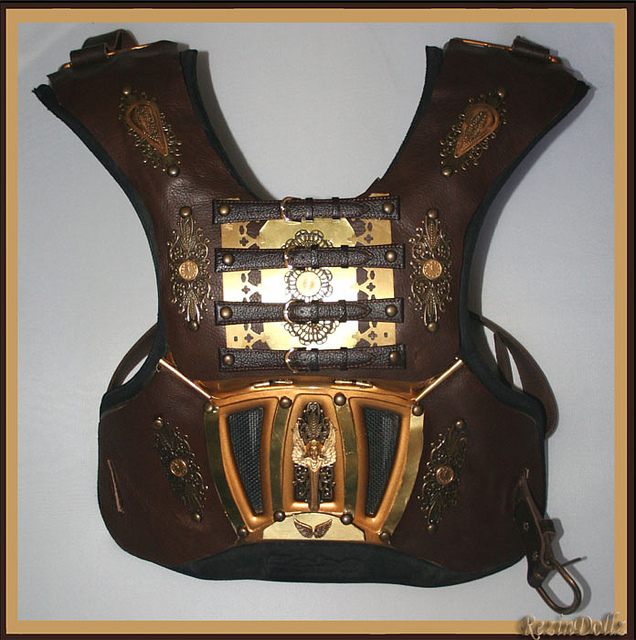 Image: Rezindollz
This amazing piece of steampunk armor was adapted from an old body protector that didn't look half as spectacular in its previous life. In fact, the protector made for two pieces of armor, as you can see below.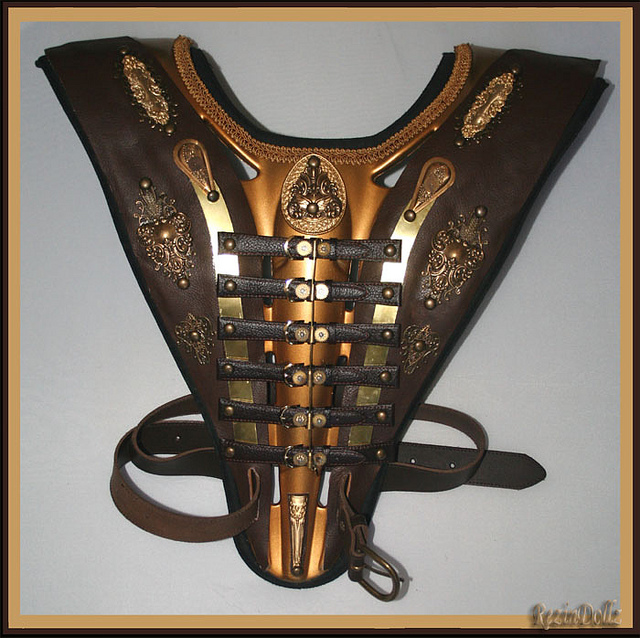 Image: Rezindollz
Its creator, Michelle, simply cut the old body protector in half, painted it gold and added lots of leftover leather pieces to make it look elegant. Then, she attached a few bronze buckles and buttons, and she was almost done.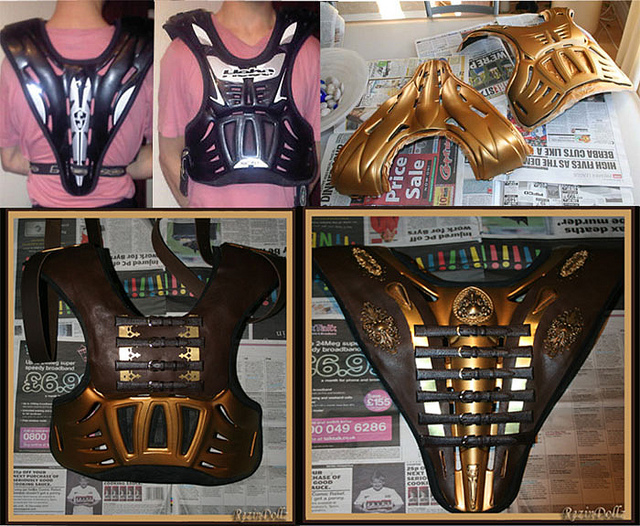 Image: Rezindollz
Don't miss all the lovingly added decorations, like the angel's head and the flowers, left over from earlier craft projects. And, if you don't believe these classy breast plates were once an ordinary body protector, just look at the work-in-progress picture above.
7. Elegant Breastplate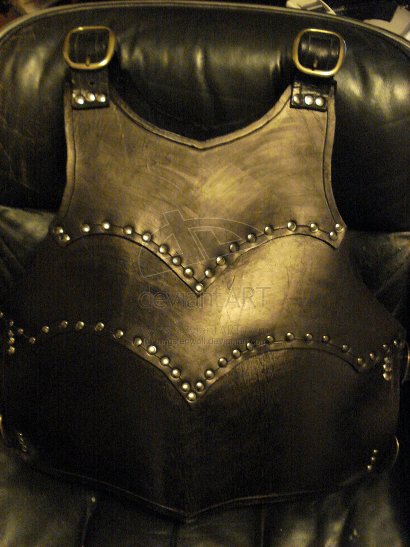 Image: Tungstenwolf
Any knight in shining armor would surely desire this awesome breastplate. The golden sheen makes it look like brushed metal, but it was actually crafted out of thick pieces of high-grade leather. It was hand-crafted by creator Tungstenwolf, who searched his studio for brass buckles that fitted the bill, as well as dozens of rivets.
6. Steampunk Captain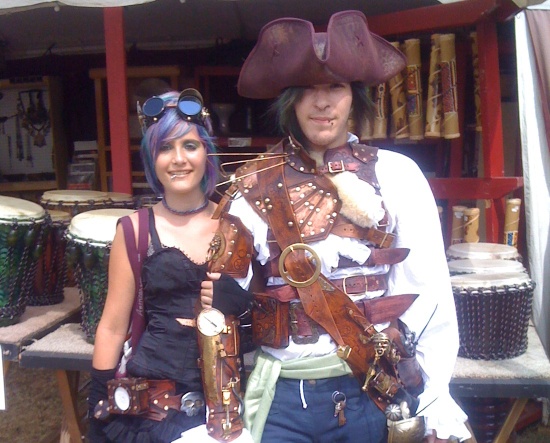 Image: Ian Finch-Field/Skinz-N-Hydez
This steampunk captain's outfit would make even Jack Sparrow go green with envy. We especially like the reuse of the different belts, meaning the costume is adjustable to many sizes. A neat belt pouch provides room for the steampunk captain's many necessities, like his snuff and secret weapons.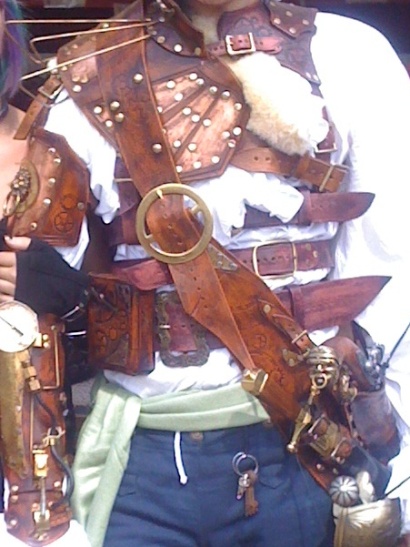 Image: Ian Finch-Field/Skinz-N-Hydez
A closer look reveals the intricate design of this steampunk armor — the finely cut and carved leather pieces, apparently dyed with different colors to give them a weathered look. Then there's the awesome gauntlet — with its quintessentially steampunk gauge — and other metal odds and ends you might find in your toolbox. Impressive stuff! And let's not forget the many brass ornaments and accents, either. Ahar, me hearties!
5. Steampunk Guard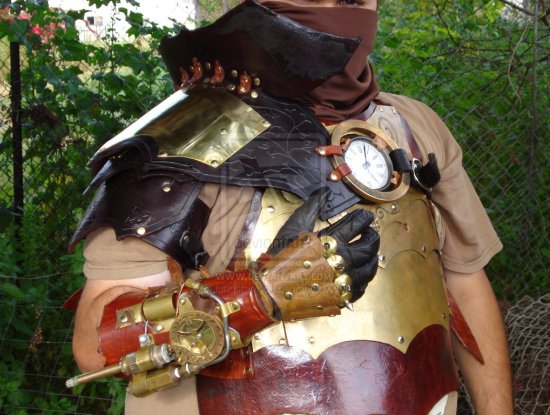 Image: Tungstenwolf
An ornate pauldron, a beefy breastplate and a gauntlet that steals the show, decorated with all sorts of repurposed bits and pieces — what more could any self-respecting member of the royal steampunk guard need? Using leather and brass pieces that were available (read: left over, lying around, donated) at different times, all are "hand-cut, molded, remolded and upgraded," according to the designer. While artisan Tungstenwolf did initially have this assemblage of armor pieces in mind, the color combinations came about by chance, which makes it amazing just how well everything blended together in the end.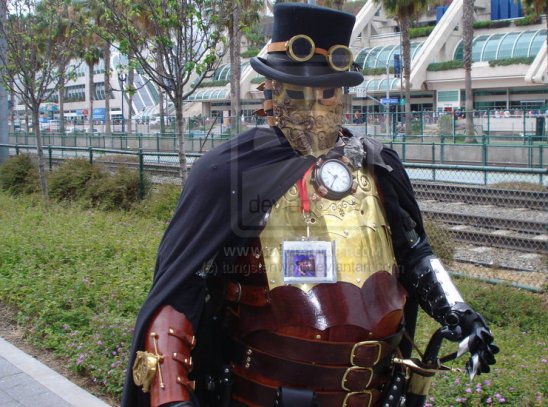 Image: Tungstenwolf
Here's the piece with a different combination of gauntlet, top hat, steampunk goggles and the cool use of old leather belts! We especially like the repurposed watch face used as the breastplate centerpiece. So, while the enemy's busy checking the time, you can deal the first blow with those spikes on the gauntlet. Hazaar!
4. Steampunk Knight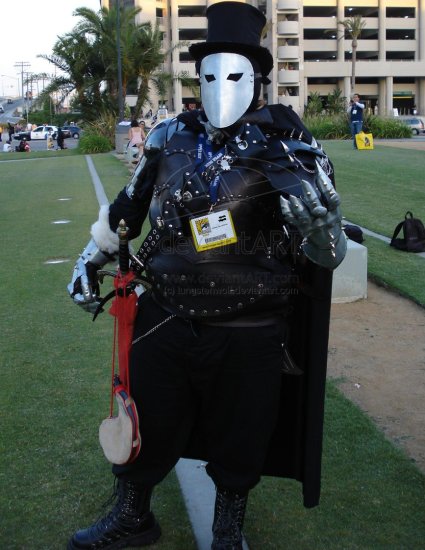 Image: Tungstenwolf
Designer and maker Tungstenwolf had this to say about this next amazing creation: "The finest up-to-date costume I have put together. Much love and time has been put into it." We believe it! The gauntlets alone are awe-inspiring and would have made any real-life knight proud — and, we suspect, somewhat feared!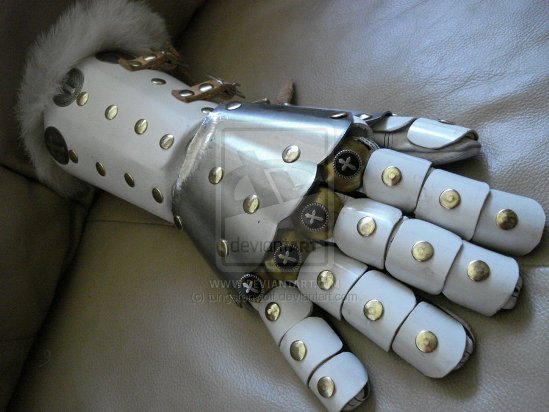 Image: Tungstenwolf
The black leather breastplate was kept relatively simple on purpose: Just a few big silver rivets provide the adornments (while the sword, gauntlets and cape grab one's attention). This versatile and finely crafted breastplate would go with many a steampunk outfit. Now, it's off to scour some thrift stores and yard sales to see if we can find any bits and bobs that might make the grade!
3. Baroque Knight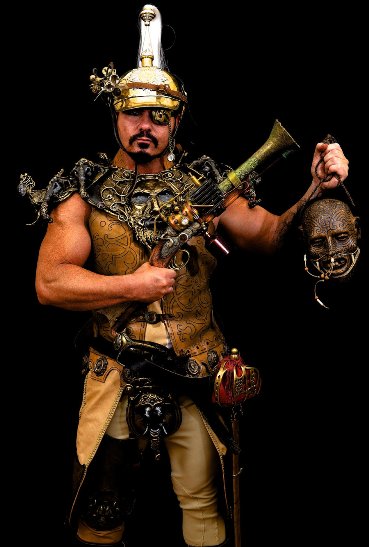 Image: Steampunk Overlord
This costume must have taken a lot of scavenging for just the right leather, brass and fabric pieces, not to forget the shrunken head (though we're not sure where you'd find one of those!). The incredibly elaborate piece was hand-crafted — painstakingly assembled with astonishing attention to detail. Must-have accessories are, of course, the distinctly steampunk pistol-cum-blunderbuss (complete with gauge), the sword and the helmet topped with horse hair and finished with an awesome monocle/eye patch. If the style looks unfamiliar, this is what creator Liam Brandon Murray calls "Cirque du Punk," or circus punk — basically, steampunk meets the circus world. Pretty cool, huh?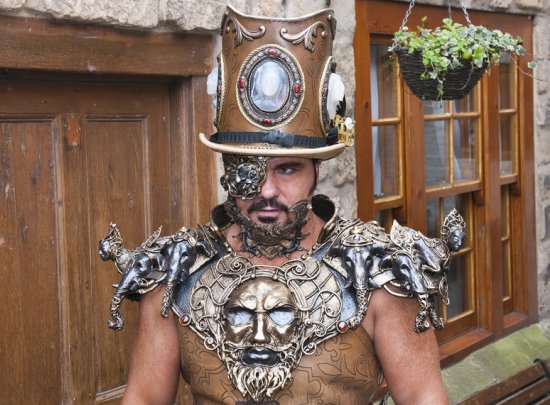 Image: Steampunk Overlord
Here's a piece of armor that tells a story with elephants, gods and mythical creatures vying for your attention. And don't miss the awesome top hat and the beard guard! Liam explains: "[Circus punk is] a new name to the cosplay world, and I hope the next big costume movement. You have a couple of hundred years to choose from, which era to represent with this costume style, as the circus has been running for at least that amount of time. Or you can even fuse those eras and come up with a collaboration of different costume styles from different decades or even centuries." Sounds like time-traveling awesomeness to us!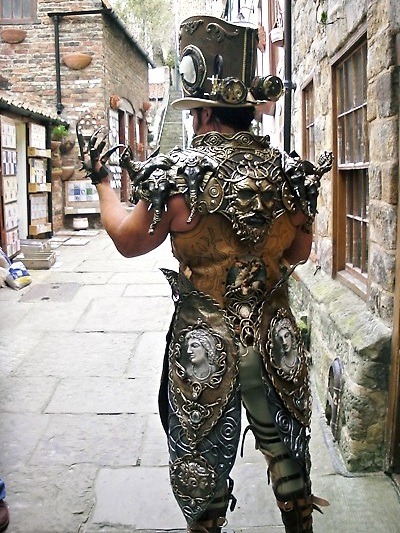 Image: Steampunk Overlord
The full baroque knight seen in the third image from top is shown here from the back, complete with the "extravagantly ornate, florid and convoluted" designs and accessories so typical of the Baroque style that was in vogue in 17th and 18th-century Italy, as well as the rest of Europe.
2. Steampunk Warrior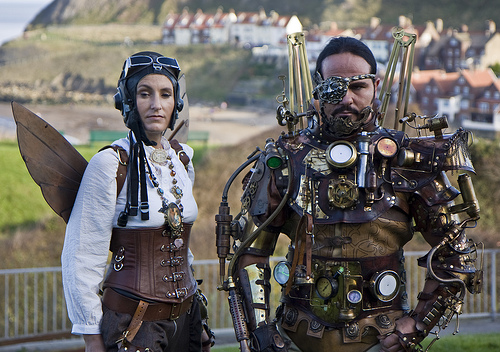 Image: Steampunk Overlord
If there had ever been a steampunk version of The Terminator, maybe this would have been it! Kitted out with many more gadgets than the man-hunting machines from the movies, this one will surely be back — as will fans for that matter: for more! Together with a few colleagues, Liam Brandon Murray designed and created this amazing armor costume. As Murray informs us, it includes a "full mechanical steampunk leg, full mechanical arm with epaulette shoulder cannon, backpack and chest armor with shoulder cannon combined." How can you follow that? We're speechless!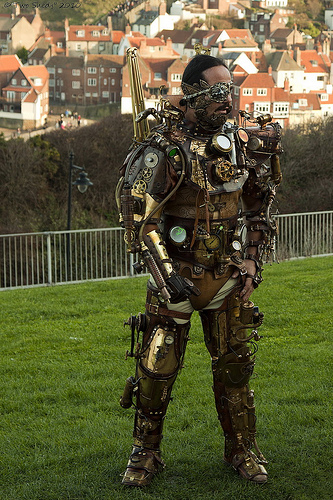 Image: Steampunk Overlord
A closer look at the mechanical arm (see also: top image) reveals many gears, cogs, valves, pipes and other repurposed and upcycled trappings. Get tinkering now! You have to start somewhere!
1. Steampunk Emperor's New Armor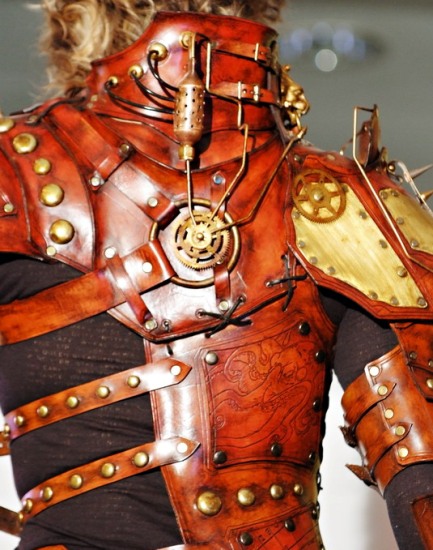 Image: Ian Finch-Field/Skinz-N-Hydez
This awe-inspiring right-side armor is called the "Emperor's Armor of Empowerment," and we can see why. Made by Ian Finch-Field, aka Skinz-N-Hydez, it indeed looks fit for the emperor of a steampunk age — be it from the past or from the future. The armor was hand-made from various bits of vegetable-tanned leather and hand-cut brass pieces. The saddle tan brown Eco-Flo dye gives the armor that weathered look — more traditionally achieved by going into battle!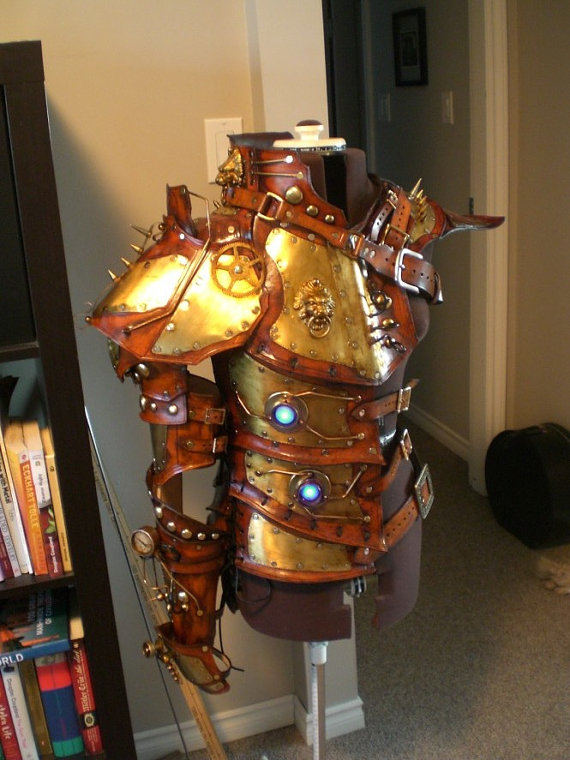 Image: Ian Finch-Field/Skinz-N-Hydez
Other odds and ends Finch-Field used from his workshop include some belts and buckles, nuts and bolts, gears and cogs and tons of rivets, all masterfully assembled to produce this one-of-a-kind costume. The leather crown is a nice touch, and then, of course, there are the two fully functioning LED push-button lights on the front that can be turned on or set to flash. Cool!
Though it takes years of experience to create steampunk armor as cool as most of the pieces featured here, it's fun to look at the potential of a few basic materials like leather, brass and fabrics, and what capable hands can do with them. Upcycling at its best!