It's about that time of year, where everyone is keeping an eye out for the perfect swimsuit for the summer. Luckily for us, as going green becomes more popular, designers are giving customers eco-friendly options for swimwear. Whether it's bamboo, soy, hemp, organic cotton or recycled materials, this season has no lack of green swimwear. Becca Swimwear by Rebecca Virtue sells
soy and bamboo swim collections
. The soy suits are made from soy pulp, which is a byproduct of producing tofu soy oil. This byproduct is usually discarded, but here it is made into a soy fabric for swimsuits. Swimsuit cover-ups are made with bamboo fibers that are hypoallergenic. Many pieces in the collection have been featured in
Sports Illustrated
,
Yoga Journal
,
Glamour
,
Ocean Drive
,
Vogue
and
CosmoGirl
. Find out
where to buy
Becca Swimwear near you.
Eco-Panda Swimwear
makes its swimsuits from 100% recycled fibers, diverting waste from landfills. During the production of these swimsuits, 28% less greenhouse gas is emitted and 27% less petroleum is used compared producing a non-recycled nylon swimsuit. Bikinis sell at regular price for about $60, while sale pieces go for about $34. Separate pieces for ladies swimsuits are about $30, and one-piece suits are $50.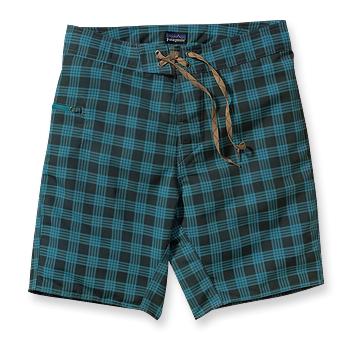 Jita Swim and Island Wear, located in the Florida panhandle, offers females handmade hemp/organic cotton blend
bikinis
and
one-piece swimsuits
. Bikinis are for sale by piece, from $38 to $78. One-piece swimwear is between $98 and $132. All orders are custom made by Jita herself, so you can be sure the bathing suit fits you perfectly.
Jita
also sells women's tops, dresses, jackets, pants and accessories. Men can cruise the beaches in Billabong
Recycler Series board shorts
. These stylish board shorts are made with 100% recycled polyester, and one bathing suit will set you back $55 to $65. The Billabong
Eco Collection
for men is growing, and it now includes board shorts, T-shirts, hats and a zip-up hoodie. The T-shirts are made from 50% recycled polyester and 50% organic cotton, the trucker hat is made from recycled polyester and recycled plastic bottles and the board shorts are made from 100% recycled polyester. Patagonia sells
swimwear for men
,
women
and even
children
that are recyclable through the
Common Threads Recycling Program
. Patagonia uses the recycled clothing to make new clothes, and you can drop off your used clothing at a local Patagonia store or mail it back to the company. Make sure the specific item you buy says it can be recycled through this program under the product description. If you cannot afford a bamboo or organic cotton swimsuit, try perusing your local Goodwill or consignment shop. The suit will probably be cheaper than a new suit, and you will be saving it from being thrown away. You could even trade suits with a friend your size if you want something new. As long as you're making a purchase or trade you can feel good about, the earth will benefit.