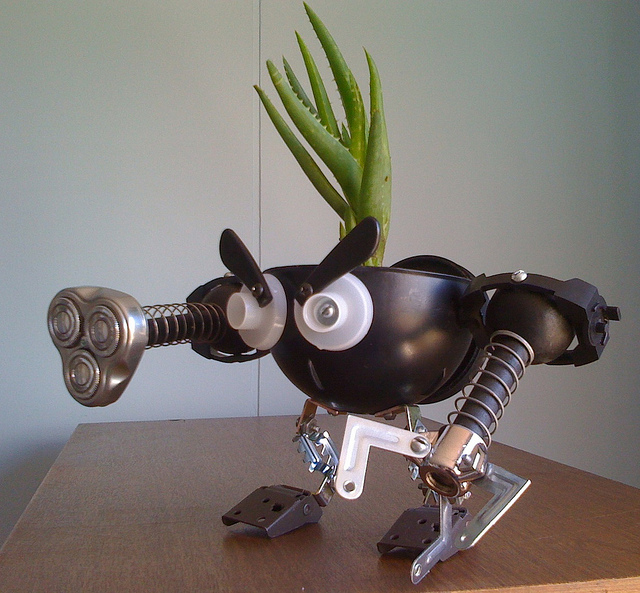 Ronin All images courtesy of Mario Caicedo Langer and used with permission.
As we've discovered many times before here on 1-800-RECYCLING.com, there really is no trash in this world. Everything is treasure; and Colombian sculptor Mario Caicedo Langer's work is (literally) living proof of this fact.
Globule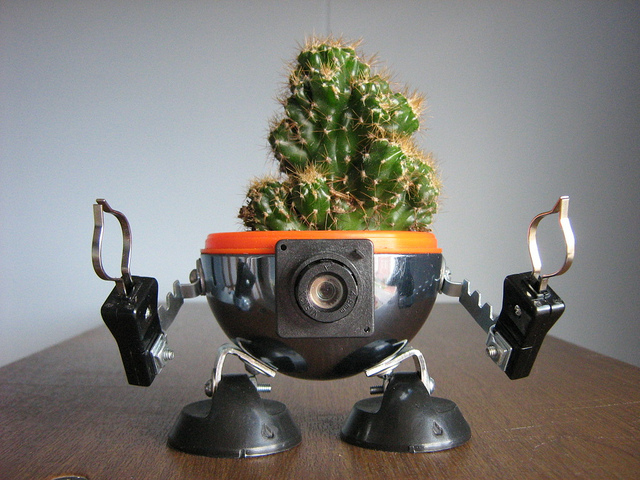 In his Robo Planters series, Langer combines unusually shaped plastic and metal pieces from a variety of discarded and defunct objects to make sometimes cute, sometimes menacing-looking robo-creatures.
Ronin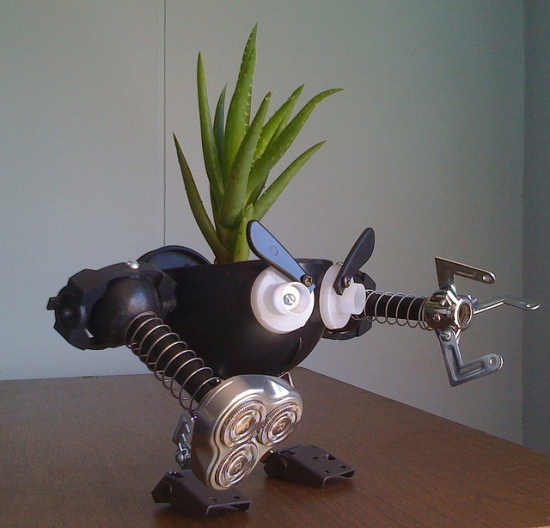 To soften the blow for those who might be fearful of these little monsters, Langer has merged their artificial materials with the organic, turning them into planters. Enjoy, as we take a look at some of the best!
Dr. Polifemo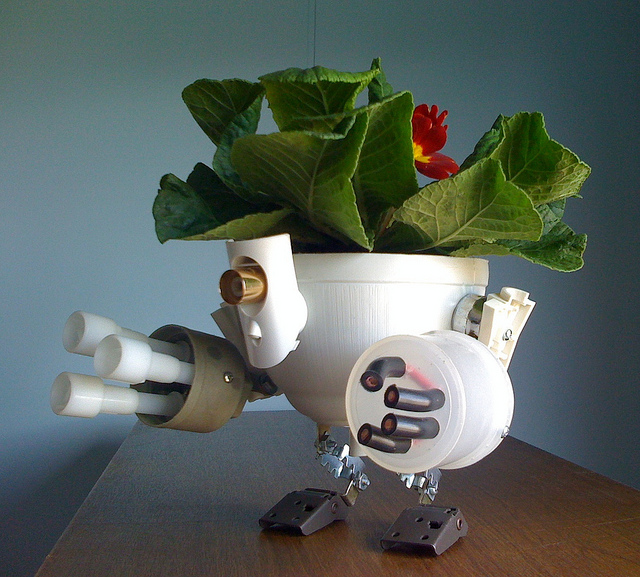 Bobby da Crab (below) is one of our favorites among Langer's large collection of Robo Planters. And the best part is, if you want to make your own cute crustacean planter, it's both cheap and fun. Just rummage around a bit among things you don't need and you'll no doubt find what you want.
Bobby da Crab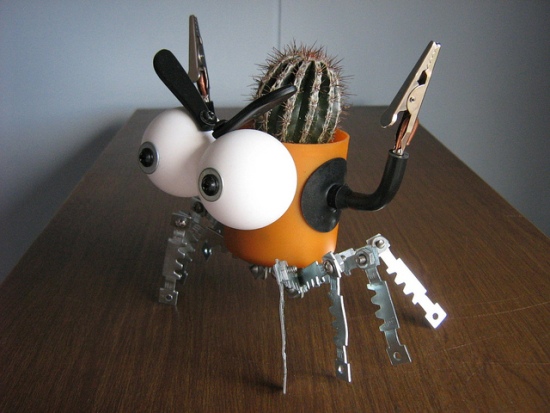 Bobby's body, for example, was an old deodorant cap; his eyes were once roll-on deodorant balls; and the eyebrows were simply two pieces of black plastic. Add some small iron angles, 16 small iron pieces from a picture frame for the legs, two black vents from a joystick, some copper wire, two alligator clips and ample screws and nuts, and that's all you need for your own crabby Robo Planter. Get salvaging!
Planter Man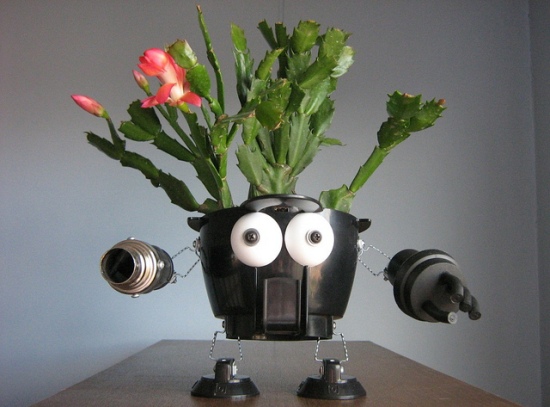 The idea for Planter Man here came to Langer while he was playing video games. He says, "Do you remember Mega Man's classic enemies? Well, I always wanted to do something like that. So, meet Planter Man, Master of the Garden Stage!" His head/body was made out of an old and broken coffee filter; his feet once were oven knobs; his eyes more roll-on deodorant balls; and for the arms, well, a nozzle from a damaged heat gun, and a plastic cap that serves as a hand. Cool, huh? And extra kudos for the recycling ethos.
Battle Succulent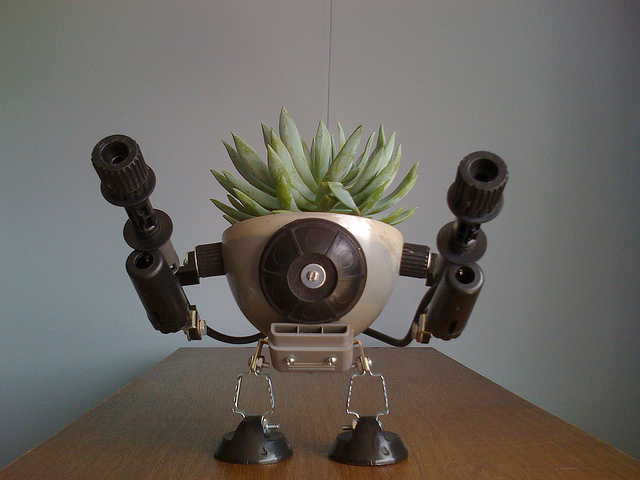 If something required is missing, remember Langer's building rule no. 1: "If you don't have it, replace it!" And if you follow rule no. 5 — "Always have junk in stock" — this wouldn't have happened in the first place!
Mega Planter Man X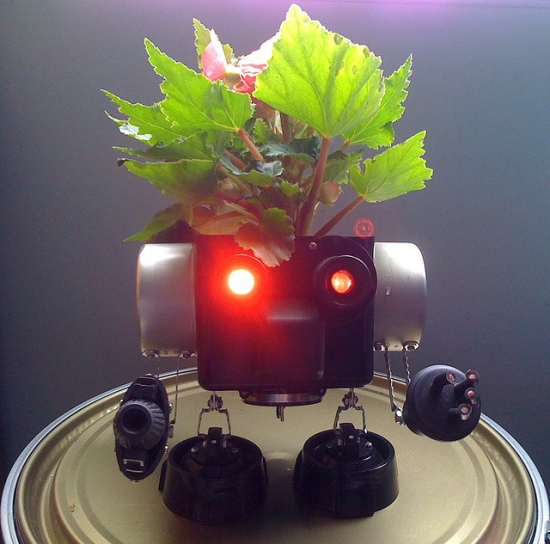 Mega Planter Man, though possessing a benign-looking mop of hair, is otherwise quite sinister in appearance — perhaps even downright frightening with his glowing camera lens eyes. He'll be back!
Globule 2.0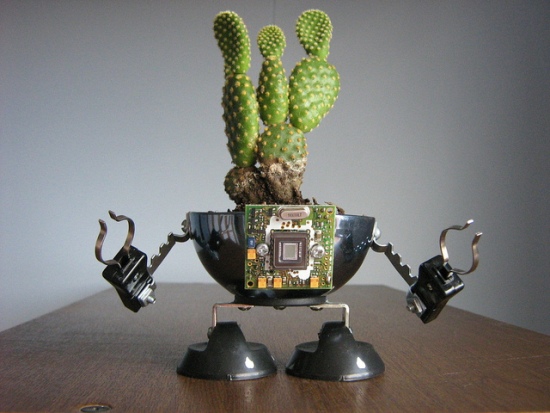 Globule 2.0 with a cactus head has a body made out of a metallic half-sphere (found in cologne caps), old oven knobs for feet, metal car lighter plug clips for hands and an old hard drive as his breast plate. Nice work on reclaiming in the name of creativity!
Roh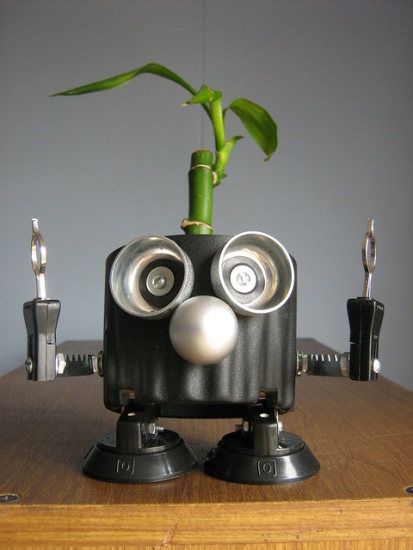 Robot Roh looks like he has his thinking cap on, though it's actually a lucky bamboo shoot. Langer found the black cylindrical aluminum "body" on a trip to the junkyard. The eyes were once bells and the nose a perfume cap. The rest will look familiar from Globule 2.0 above. Cool stuff!
Planter Man X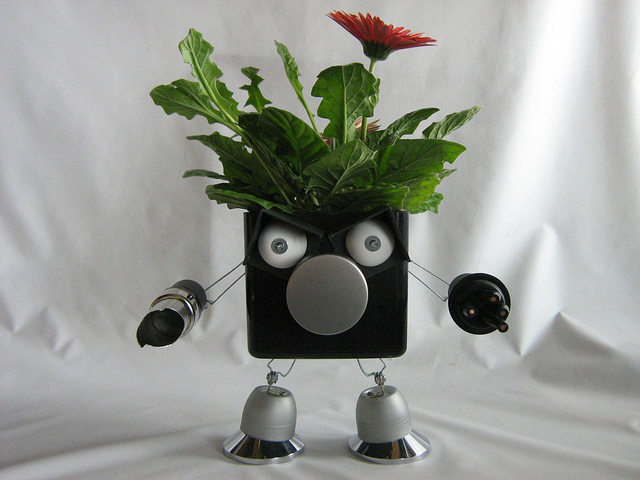 If you're thinking about the kind of green stuff with which to fill your own Robo Planter, Langer recommends cacti, because they make for perfect heads — or rather, hairpieces! — and they don't take up too much space or need much water, either. Perfect, indeed.
Follow the Leader
We know you're dying to see some more of Langer's creations, but first we'll tell you what other household items he has used for the heads and bodies of his fascinating little creations. He says: "You will see strange materials like toilet floats, a plastic box from an inflatable jet ski, damaged kitchen aids and coffee makers, sausage and tuna cans and an industrial register. Almost everything with space for a plant could be transformed into a Robo Planter." Couldn't agree more!
Dr. Vergara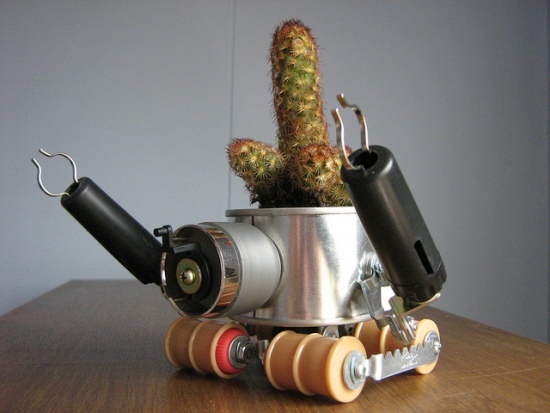 Oh, and don't forget damaged toys, deodorant tops and even grandma's rolling pins!
Cactus Post-apocalíptico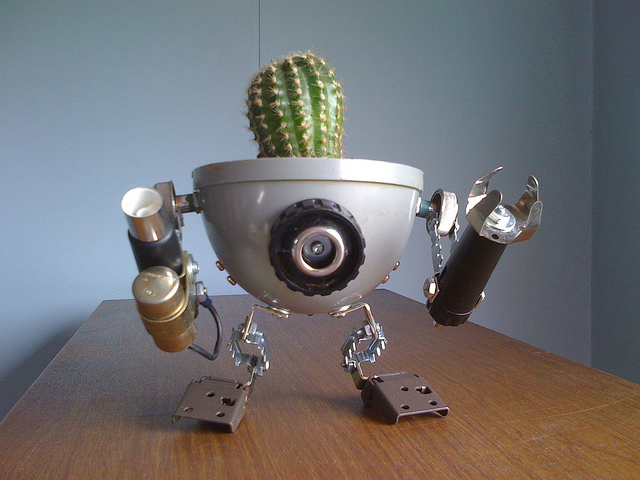 Langer recommends flea markets and junkyards as places from which to source these objects. Family and friends are also an invaluable resource — and should be instructed not to throw away any plastic or metal pieces without your permission. You tell 'em!
Proctor Silex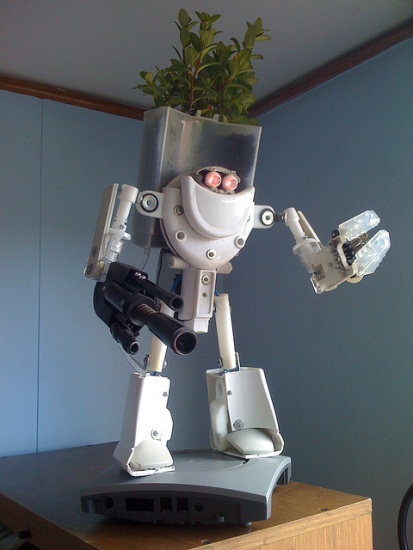 Apart from Robo Planters, M.C. Langer, or "Cyborg," as he likes to call himself, makes toys, accessories, crafts, props, planters, strange weapons and more out of everyday objects.
Cañonero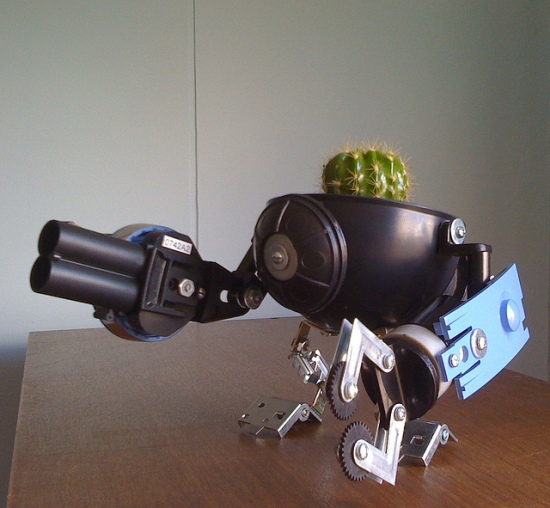 For the latest updates, you can follow Langer's collection, "
Basura Desencadenada
," or "Trash Unleashed," on Facebook, and make sure to check out his
Instructables
.