A giant convention center is the last structure to come to mind when thinking about green building. But if you've been to Nashville, TN (aka Music City, USA), you know that the norms rarely ever affect the city's paradigm.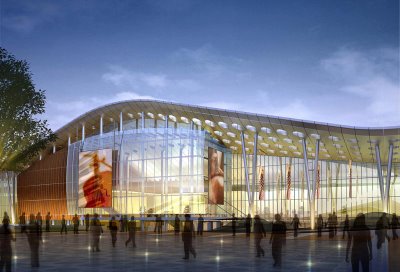 The current Nashville Convention Center is an antiquated structure that in many ways has outlived its usefulness. Enter the new
Music City Center
. Nashville's new convention center is slated to open in early 2013 and will be located just a few blocks from the current one, but the new convention center will feature a vast array of improvements — many of them making for a greener locale. While the new Music City Center is still under construction, it will include some epic eco-friendly features, such as:
LEED Silver certification;
a giant, 175,000-square-foot green roof, designed to mimic the rolling Tennessee hills;
a 360,000-gallon rainwater collection tank that will store enough rainwater from the roof to irrigate the outdoor landscaping and flush the hundreds of toilets in the building;
50 available spaces for employees' bicycle storage needs (a not-so-subtle endorsement for bicycle commuting); and
10% of all construction materials will be sourced regionally (from within roughly a 500-mile radius of Nashville).
The
Nashville Business Journal
goes into further depth on the regional sourcing of construction materials: "For a piece of lumber, that basically means the tree grew in Tennessee, was harvested and taken to a lumber yard in Tennessee and sold to a distributor in Tennessee." In addition to the regional sourcing, some of the best eco-friendly aspects of the Music City Center are ones that will go unnoticed by patrons. Kristen Wright, project manager with Bell/Clark Construction, the firm that is building the Music City Center, said, "Developers have set a target of recycling more than 50% of all construction waste from the project. Additionally, all of the construction materials must be made of up to 10% recycled content." Wright went on to say, "As contractors have become more informed about sustainability, we've seen the industry shift to more voluntary recycling and use of recycled materials." The new Music City Center may not be über-green by some standards, but a 2.1-million-square-foot convention center achieving an LEED Silver rating is no small feat. I've said
many
times before, when it comes to living greener,
eco-snobbery sucks
and every step matters. Props to Nashville for a big step in the right direction.