Would you ever use a urinal as a planter or a street sign as a headboard? Well, the "
Picker Sisters
" do just that and more with odds and ends that many people discard or abandon as trash. This new show on Lifetime features best friends Tanya McQueen and Tracy Hutson as they travel across the U.S. in search of anything and everything they can get their hands to build inventory for their new store. Along the way, they provide tips and tricks for picking
items ripe for reuse
in your own city.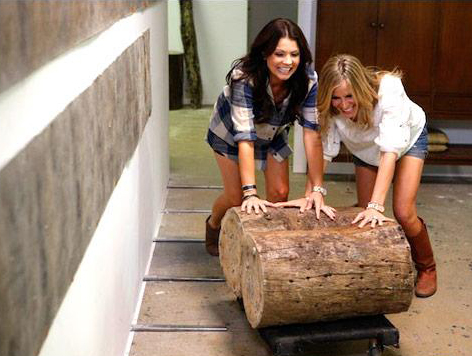 In order to start pickin', you have to roll up your sleeves (maybe even wear some cowboy boots) and hit the road — literally. The first places you might want to look for antiques and used furniture that can be reupholstered or reinvented include your neighborhood streets. From time to time, stroll up and down the block on an evening before garbage pickup day, and you'll certainly find trash that can be turned into treasure. Now, if you're not too keen about sifting through your neighbor's unwanted goods, find a local flea market by using an online directory — the
National Flea Market Association
provides an easy-to-search database. Since many businesses are on Facebook nowadays, you might be able to track down flea markets via that route, too. Junkyards, auctions and farms are other great places to
find treasures
as well. So, what types of items should you be looking for? It really can be anything. It truly depends on what you need, how much your budget is and how much time and effort you're willing to spend on supplemental purchases. For instance, the Picker Sisters suggest keeping things like rope, chain, wire, metal and wood around, because you never know when you might find use for them later. These supplies can turn raw materials into finished products. The sisters have transformed many items into functional furnishings for the home. A large circular piece of metal was hung and upholstered to serve as a
swing
. Aged electric heaters were turned into an
armchair
. Oddly shaped metal pieces and motor parts were used as
wall hangings
. A metal wash basin was converted into a
light fixture
. As you can see, in the world of pickin', there are no rules — it simply requires imagination and ingenuity to alter a seemingly uninteresting piece into an incredibly eye-catching focal point or accent. All you have to do is hone your skills and do some "trash" collecting to make your designing dreams a reality. Even with one or two amazing pieces, you can rearrange and recreate a whole new feel in any room of your house. And remember: Sometimes reused items that show their age can breathe life into a space.