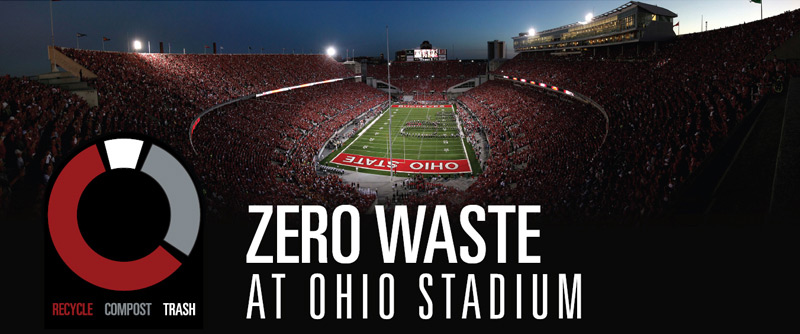 This season, Ohio State will ask fans to add green to their scarlet and gray in order to turn Ohio Stadium into a
zero-waste
zone. The term "zero waste" refers to a 90 percent diversion rate of trash from landfills, which is achieved by recycling and composting. In order to achieve that goal, most items purchased inside Ohio Stadium will be either recyclable or compostable. Volunteers, additional staff, and signage will be in place starting with the home opener on Sept. 3 to help with the education process. Tailgate lots will continue to use trash and recycling dumpsters as well as white recycling bags. The Horseshoe's green initiative is just a small part of the Ohio State's overall commitment to sustainability, which includes campus-wide recycling efforts, clean energy and environmental research, green curriculum, and green building practices. If you'll be visiting Ohio Stadium this season, here's what you'll need to know.


No trash talk. There will be no trash bins at Ohio Stadium. Instead, bins for recycling and composting will be available throughout the stadium.
Compost your crumbs. Any food or paper items — napkins/paper towels and popcorn/pizza boxes — are compostable and should go in the gray containers.
Red is for recycle. Anything that is not compostable — plastic bottles, aluminum cans, and magazine/copy paper — belongs in the scarlet recycling bins. When in doubt? Recycle.
Source: Ohio State Athletics