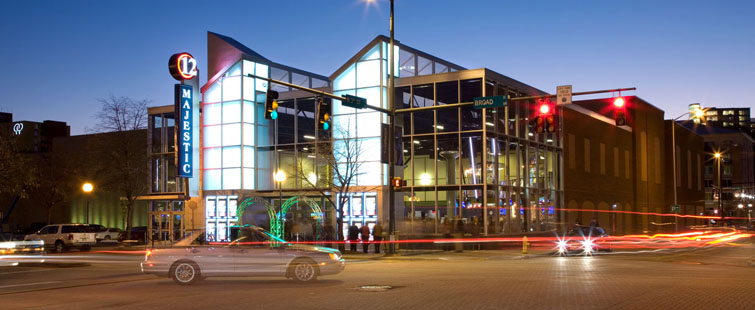 The Majestic 12 in Chattanooga, TN, is the "LEEDing" movie theater in the country. This reclining-seat-equipped VIP theater is decked out with the latest digital and 3-D technology, offering butler and beverage service for your comfort. Oh, and it comes complete with LEED Gold certification.
The Majestic 12 became the first movie theater in the U.S. to achieve LEED certification when it opened in late 2009. I had the pleasure of
attending the grand opening
and posted the first videos of the sexy new property to appear on the Web. I spent some time interviewing Dale Hurst, Director of Marketing for Carmike Cinemas, and Jeff Pfitzer, Director of Special Projects for
River City Company
(the project developer). I also grabbed willing gala attendees to get their
impressions
on the Majestic 12 and then took a
tour of the VIP theater
. Some of the features that helped the Majestic 12 earn its LEED Gold certification are:
The facility was built on an urban infill lot, not existing green space;
10,000-gallon filtered rainwater catchment system is used to flush every low-flow toilet and urinal in the facility;
large windows in the lobby light the space in the daytime, and normal electrical lighting set on a sensor begin to brighten as the daylight fades;
high-efficiency LED lights;
high-efficiency HVAC systems;
exterior brick was sourced from a regional facility and was also fired in a kiln powered by methane gas captured from a nearby landfill;
100% of the steel structure was made from recycled steel;
more than 93% of the construction waste was diverted from landfills; and
the construction process utilized building materials with more than 20% recycled content from within a 500-mile radius.
Put the eco-friendly aspects together with the chic design, high-tech A/V equipment and the hip vibe of downtown Chattanooga — named the "Best Town Ever" by
Outside
magazine in October 2011 — and the Majestic 12 is a movie theater worthy of kicking back in. You can even hop on the free electric shuttle bus that makes a stop right outside the theater and buzz to one of downtown Chattanooga's dozens of amazing restaurants, or to the riverfront, to relax in one of the best urban park areas in the U.S.