Should colleges really care about giving themselves a green glow? Two Mid-Atlantic schools show why sustainability on campus works.
What makes a college campus green? The Princeton Review set out to answer that question with its annual
Green College Honor Roll
, a listing of campuses doing good things around environmental sustainability. The book, which was released in April to coincide with
Earth Day
, considers things such as environmental curricula, green buildings and recycling and composting programs.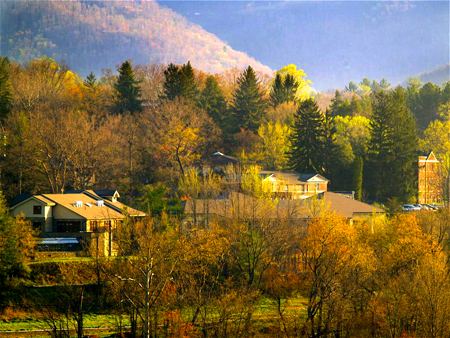 Two of the top schools in this year's ranking,
Virginia Tech
in Blacksburg and
Warren Wilson College
in Asheville, NC, shared some thoughts about how the
Three Rs
contributed to their success on the survey and what other campuses can do to bump up their sustainability ratings. Denny Cochrane, Sustainability Program Manager at Virginia Tech, credits the school's
Climate Action Commitment Resolution
with helping his department make serious strides forward in recycling and composting. The 14-point plan will be incorporated into the campus' overall strategic plan in 2012 to help keep it front and center in people's minds, he says. Goal 8 states that Virginia Tech will achieve a 35% recycling rate by 2012 and a 50% rate by 2025. In 2008, the year before the Climate Action Commitment Resolution went into effect, the campus had a recycling rate of 28.6%. By 2010, the rate had increased to 37.5%, already exceeding the campus goal for 2012. "We also have to give a lot of credit to our Dining Services department," Cochrane says. Virginia Tech's dining halls have gone from composting nothing in 2007 to a remarkable 326 tons in 2010. Only three campus dining halls are participating right now, but Cochrane's goal is to expand the composting program to every dining hall on campus. Recycling has always been student centered at Warren Wilson. All students are required to work on campus, and they were the ones who set up the school's first recycling program back in 1990. Students continue to take the lead on major projects, which gives Warren Wilson an additional resource for getting good work done. Currently, Geneva Bierce-Wilson, a fourth-year student, is leading the effort to construct a
cob building
on campus. The building, which will include a green roof and locally sourced building materials, will be used by the campus composting program. A building may not be possible for campuses without forestry and building programs. On the other hand, a
FreeStore
may be more feasible. The store (similar to a thrift store, except that everything is free) is open to students to swap clothing and accessories, books, housewares and even furniture during the year. "We also do a large collection at the end of the school year when students move out and hold a free giveaway that is open to the public," says Jessica Foster, Supervisor of Recycling and Waste Management on campus. "This past May, people took 2.79 tons of clothing." Warren Wilson has had good luck partnering with companies to recycle some of the more unusual items that turn up on campus. "We've teamed up with
TerraCycle
to recycle unusual items like candy and energy bar wrappers, cookie packaging and corks," Foster says. Taken together, these things have given the campus an overall diversion rate of nearly 42%. Should colleges really care about giving themselves a green glow? If they're looking to boost their admission rates and energy footprints, it's definitely something to keep in mind. Robert Franek, Senior Vice President of Publishing for The Princeton Review, shared this thought when introducing this year's Green College Honor Roll: "Among 8,200 college applicants who participated in our spring 2011 'College Hopes & Worries Survey,' nearly seven out of 10 (69%) told us that having information about a school's commitment to the environment would influence their decision to apply to or attend the school."