There is something about autumn that brings out the crafter in me. Even though I'm an avid DIYer and upcycler, I don't usually pull out the craft supplies until the leaves start to change colors. Whether it be making Halloween or autumn decorations, Halloween costumes or just regular ole interior décor, this time of year affords ample opportunities to pull out the drill, paint bucket and hot glue gun. Check out these three Halloween decorations you can easily make from things you probably already have lying around your house.
Wine bottle Jack-o-lantern
There are lots of great craft and upcycling ideas for empty wine bottles, but this one can be done using a full bottle as well. As I posted on
Eco-Snobbery Sucks
earlier this month:
Head on over to the wine and liquor store to pick up a few bottles of your favorite wine, take them home, turn them into wine bottle Jack-o-Lanterns and then give them as gifts or take them to a Halloween party. Of course if you have a few empty wine bottles (or soon-to-be-empty ones) just sitting around, you could carve them up just as easily… figuratively speaking. And if you're using empty bottles, you could even drop a string of clear Christmas lights in the bottle and use them as the "candle" in the Jack-o-Lantern.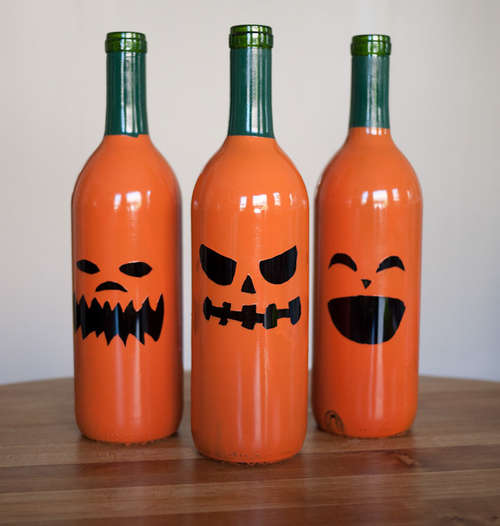 The only materials you need for this project are:
Your favorite (or an otherwise cheap) wine
Masking tape
A Sharpie
An X-acto knife
Spray paint (you definitely need orange, green is optional)
A bucket
Get the full project instructions at Instructables.
CD pumpkin or Jack-o-lantern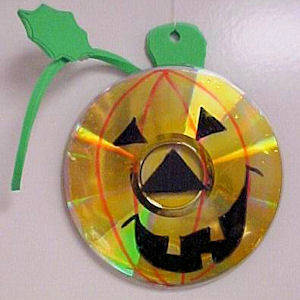 Everyone has tons of old CDs just sitting around, cluttering up the office. Seriously, who uses CDs as a storage medium anymore? They don't do much good collecting dust and aren't very recyclable, but there are some pretty
clever ways to reuse old CDs
, one of which being this Halloween craft. You'll need some permanent markers, craft foam, hot glue and glue sticks, string, scissors, a paint brush and some orange suncatcher paint, but the project is so easy that you will have an entire pumpkin patch in no time.
Check out the full instructions on About.com.
Creepy 'specimen' jars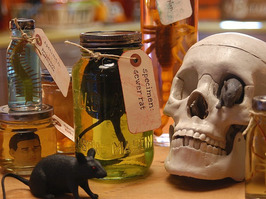 Think of any Halloween movie you've seen. Inevitably, there is a witch standing over a boiling cauldron adding ingredients like, "three raven claws, a dash of pig vomit and the hair of three-legged goat" to what is sure to be a foul potion of some sort. If you have some old toys your little ones have outgrown and some mason jars sitting around, this project will allow you to make it look as if you're on the brink of cooking up your own ill-intended concoction.
Check it out on DIY Network.
What are some of your favorite DIY Halloween crafts?