The simple definition of a book is this: hundreds of pages of printed text bound between a front and back cover. But, depending on who you ask, you'll get a vastly different interpretation of what feelings it can evoke. For some, if they were forced to live out their days on a deserted island, a book would still be the very last thing that they'd cling onto for their sanity, perhaps due to challenges they may have had while in school. Sometimes dreaded, brain-confounding subjects make us so numb that we associate books (in general) with things that make us go
blah
. Mention the word "book" to a dyed-in-the-wool bibliophile, however, and it's a different story all together. In fact, you can often see their eyes dancing while they describe how and why their latest bookstore acquisition is as sublime as it is positively addictive. You'll often find that these are the type of people who habitually tote 20 pounds of books along with them in order to read
what
they want precisely
when
the whim strikes. Plus, they're partial to handmade book covers, clip-on lights and other seemingly must-have accessories that make the experience just a bit more… cushy.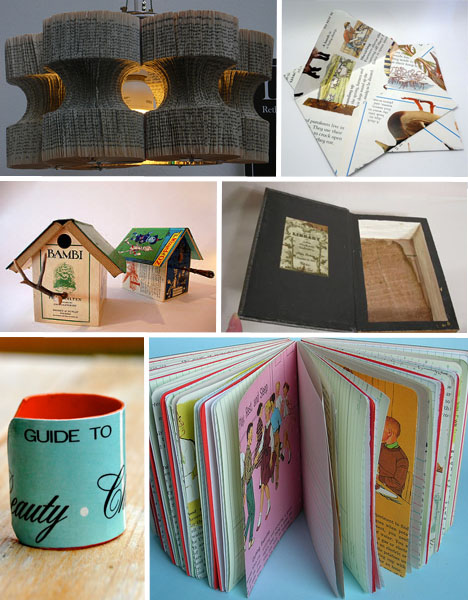 Wherever you personally fall in the book fan club spectrum, as the years go by, the texts somehow always add up. Love 'em or hate 'em, printed materials — even those regarded as classic pieces of literature — always end up becoming dust collectors. Fortunately, it's increasingly becoming commonplace to donate unwanted tomes to charitable organizations, libraries, schools and Craigslist devotees. Some are even lucky enough to live near used bookstores that happily purchase old titles for pennies on the dollar, but that doesn't change the fact that untold amounts of them are often pulped by manufacturers or simply thrown away. A print-on-demand system would be far more environmentally friendly, but that's just not the way that our culture is hardwired — at least not yet. And while online book swapping and donation communities such as
BookCrossing
,
BookMooch
and
PaperBackSwap
certainly offer unwanted texts a temporary stay of execution, it's anyone's guess what their ultimate fate ends up being. You, however, have come this far, which means that you're jonesin' for a way to breathe new life into those old books cluttering up your home. That's fantastic! With the following roundup of phoenix-like book ideas, you'll have plenty to keep you busy. That is, until you finally decide to replenish your collection with the latest, greatest hot-off-the-press titles!
What should I do with the piles of old books cluttering my house?
How 'bout making some nifty literary accessories like this:
Protective e-reader cover
or
perennially practical bookmark
?
How 'bout turning old book covers into new…
Blank, unlined notepads
or
vintage journals
? (These
ecological scratch pads
aren't too shabby, either!)
How 'bout crafting some unexpectedly cerebral works of art like…
Hungarian designer Flóra Vági's
lacy book "jewelry" cuffs
or Rosie Miller's
sculptural décor accents
?
How 'bout feathering your nest with some bookish furniture pieces like this:
End table
,
office desk
,
bookshelf
or
easy chair
?
How 'bout sprucing up your décor with…
The Entre Lineas collection of old books carefully folded into
handmade paper lights
?
How 'bout kicking your DIY skills into overdrive by making…
An entire book-covered
WALL
? Or, if your book collection is totally out of control, a full-blown
octagonal-shaped structure
just like Matej Kren's!