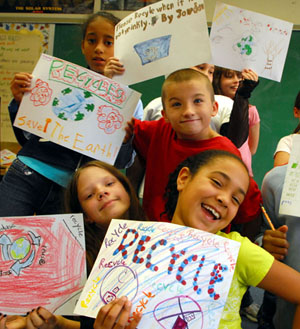 I often find myself wondering what more I can do to promote recycling and reduce waste in my area, but I hadn't really had a great idea until I learned that my daughter's new school does not have a recycling program of any kind, even though there is a city recycling center located in its parking lot. Surprising, to say the least, but I have a plan of attack. Our neighborhood elementary school is made up of two buildings separated by a few blocks. One houses kindergarten through second grade and the other third grade through fifth grade. The K-2 school has the recycling center located in the teacher's parking lot. The plan is twofold. First, get a recycling program started at the schools, and second, put together a team of volunteers to keep our neighborhood litter-free and beautiful.
Get other parents involved.
Present a proposal for a school recycling program at a Parent Teacher Association meeting.
Talk to other parents about how to make a waste-free lunch and, if there is a recyclable item in the lunches they pack, make sure they remind their children to recycle it.
Get the teachers involved.
Offer to speak to the children about why we recycle and ways to reduce and reuse.
Get recycling bins from the city to place in the classrooms and lunchroom.
Propose field trips to the local recycling plant, or have a representative come in and speak to the children about how things are recycled.
Ask the teachers to show "The Story of Stuff" to help the children visualize
Get the administrative staff involved.
Find out if the school is buying recycled paper.
Set up a recycling bin for paper in the offices.
Organize a green team.
Volunteers would be parents, teachers, administrators, members of the community and local business members — anyone concerned about having a litter-free neighborhood.
Volunteers jobs could include:

Emptying school recycling bins
Educating families, friends, neighbors and co-workers about waste prevention and recycling
Adopting areas in our neighborhood to keep litter-free and beautiful (including school grounds)

Assess the feasibility of an edible school garden.
I'm excited for the opportunity to get involved in a meaningful way in my daughter's school and in my community.