What if you worked someplace that made a product that had the potential to change the world? A product so brilliantly functional that its basic design hasn't changed much in a hundred years? A product that enriches the lives of its users, and improves the world in which they live? And, what if the majority of the world either already owned your product or had relatively easy access to it? Then you would work where I do — at a bicycle company. I work at
Trek Bicycle
and want to share with you a few of the things we've implemented recently to become a friendlier world citizen.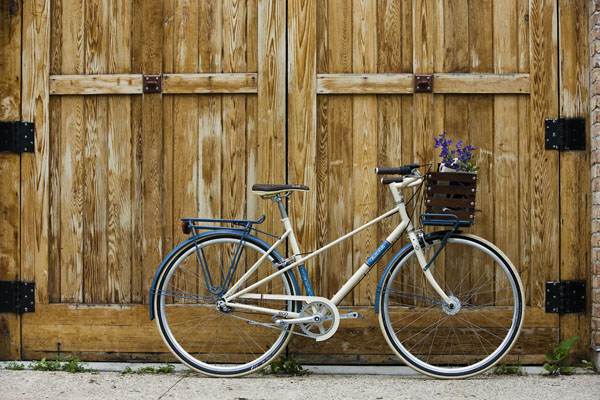 We're a manufacturer, with a manufacturer's footprint — but we know that to continue sustainably, we need to tread lightly. Through the efforts of Trek employees, our dealers are now recycling tires and tubes that we then turn into innovative bike commuter bags. In the past few years, our accessories brand, Bontrager, has significantly reduced the size and amount of packaging we use, and switched to paper products that are 100% recycled and recyclable. This past year, we dropped our annual coal consumption from 10.5 million pounds to 0 pounds by converting all our Wisconsin facilities to completely renewable energy sources. We're not perfect, but we're taking the necessary steps to reduce our footprint every day.
Last year, we challenged ourselves to offer the marketplace a product that would not only provide a realistic errand alternative to the car, but would also make the user feel good about how it was made. The result:
Eco Design
, a line of practical bikes, parts and accessories built using easily recycled materials and sustainable manufacturing processes. The bikes are built to last, too, because we know the easiest way to keep a product out of a landfill is to make sure it has a long, useful life. That's the Eco Design ethos. Our commitment to a healthy world doesn't stop with our products — we're committed to healthy employees, too. In our cafeteria, fried foods are expensive, thanks to a "Twinkie Tax," while fresh fruit and our killer salad bar are dirt cheap. We provide showers, locker rooms and indoor bike storage to encourage people to bike to work. (And they do, from as far as 30 miles away.) We reserve the biggest and best percentage of the parking lot for carpoolers. Our fitness facility rivals any private gym, and we offer yoga and other wellness classes during the workday.
The healthiest thing you can do for yourself and your world is ride your bike. Forty percent of all U.S. car trips are less than 2 miles. TWO MILES! The impact you can have on the world and your own well-being by taking just half of your 2-mile trips by bicycle is incredible. I won't bore you with statistics, but I'll give you facts: You'll feel better, look better and most importantly, you'll have more fun. How many other products will do all that for you?
Eric Bjorling is the Lifestyle Marketing Guy at Trek Bicycle in Wisconsin.