With fall here and the leaves changing, getting out for a hike and enjoying nature is one of the most rewarding activities. Not only can you take in the fresh air and gorgeous views, but it's also a healthy alternative to your weekend. And what's a better way than to experience nature with eco-gear? We've pulled together a list of our top eco-friendly favorites that are stylish and functional from head to toe.
Ramblers Way Farm base layers
In cooler months, layering is essential, and we really like the soft, superfine wool of the products made from
Ramblers Way Farm
as a base layer. Produced sustainably in Maine, Ramblers Way spins its wool from Rambouillet sheep, which produce a very fine, thin, durable fiber. This fiber is then spun to create a yarn without the typical "scratchy" feel. The fiber is then hand dyed from dried plant extracts.
Under Armour T-shirts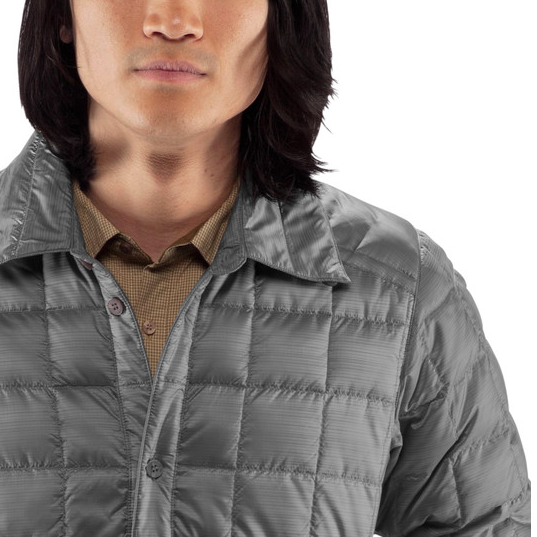 For warmer days when only a lightweight T-shirt is needed, we have to lean toward one from Under Armour. The company's "
UA Green
" products are made from recycled plastic bottles and offer a range of long-sleeve and short-sleeve Ts. In 2010 alone, Under Armour estimated that 1 million 1-liter plastic bottles were converted into performance products. The Catalyst collection, in particular, is made from stretchy fabric that has anti-odor technology and temperature regulation, and Under Armour claims it's the fastest-drying T-shirt it has ever made.
Patagonia fleece
Fleece is lightweight and it breathes well, all while wicking moisture from your body. When we think of fleece, we think of Patagonia. The company is known as a leader in the industry, making products that cause the least harm to the environment. Through its
Common Threads Initiative
, Patagonia has taken back 45 tons of worn-out clothing since 2005, and has recycled it to make 34 tons of new clothes. Currently, Patagonia utilizes what it calls "e-fibers" — environmentally friendlier fibers — that include recycled polyester, organic cotton, hemp, chlorine-free wool and repurposed nylon.
Nau jackets
With a large selection of durable, functional and super stylish jackets,
Nau
has emerged as a well-known company in the sustainable outdoor apparel industry. Nau seeks to know where the fibers and fabrics it uses are created and what paths they follow before ending up in the factory. In addition to using sustainable wool, Nau also uses organic cotton and recycled polyester in place of nylon (which is widely used in the outdoor apparel industry), since nylon cannot yet be recycled. Nau's insulated jackets take advantage of an eco-fabric technology that is a recycled polyester/COCONA blend derived from coconut husks. This fabric combines activated carbon with recycled polyester to provide "superior insulation that resists moisture, controls odors and provides a higher warmth-to-weight ratio than other synthetic insulation." We know you'll have a hard time choosing which jacket you like best.
Teko socks
With a philosophy of making premium performance outdoor socks with the least possible environmental impact,
Teko
is not only known for its soft, moisture-wicking design, but also for the combination of eco-friendly fibers in its product line. For example, the recycled "tekoPOLY" fiber is made from 100% post-consumer waste like plastic bottles, and the organic "tekoMERINO" wool is both sustainable and organic.
Mountainsmith dog pack
We know hiking is so much more fun with a companion, so if your pooch is making the trek with you, don't forget to hook him or her up with eco-friendly gear as well. Mountainsmith has been making dog packs for more than 30 years, and its
recycled dog pack
that we found at REI gets high marks. It's made from recycled PET fabric, which is equivalent to saving 15 16-ounce bottles from the landfill. Now that you have some ideas to start your hiking adventures, the next step is to start researching where to go. With state parks and campgrounds still open through the fall, make sure to take advantage the trails they have to offer. And enjoy the beautiful weather!