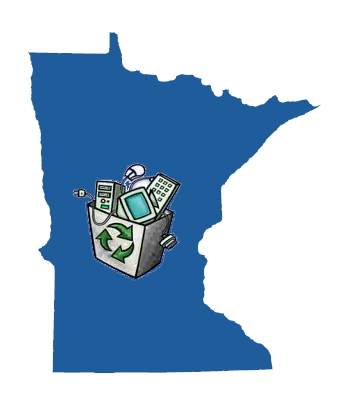 Currently in the U.S., 25 states have passed legislation requiring statewide e-waste recycling. Several more states have recently introduced legislation. In Minnesota,
electronics recycling legislation
was signed into law in May 2007. This legislation targeted the collection and recycling of video display devices sold to households/consumers, including televisions, computer monitors, laptops, computers, printers, fax machines, keyboards and DVD players. The manufacturers of these devices must register each year and pay a fee to the state, collect and recycle electronic devices from households/consumers in Minnesota and file a report detailing the results of their collections for each program year. Here's some advice from the
Electronics TakeBack Coalition
about getting get rid of electronic equipment that you no longer use while protecting the environment at the same time:
1. Do not throw your old electronics in the trash.
There are toxins that could leach into your soil and ground water if your electronic devices end up in a landfill.
2. Donate for reuse if possible.
If your device is still functioning, check with a local school or charity to see if they could give it a second life.
3. Find a responsible recycler, an
e-Steward
, in your area.
Certified e-Stewards recyclers adhere to a strict standard of responsible recycling and reuse with the goal to protect human health and the global environment.
4.
If there isn't an e-Steward near you,
try the manufacturers' free recycling programs.
Electronics TakeBack Coalition has a listing of
manufacturer takeback programs
.
5.
Best Buy
and
Staples
also have electronics takeback programs.
6. Find additional electronics recycling options
in the Twin Cities on the
Rethink Recycling website
. For recycling options outside of the metro area, visit the
Minnesota Pollution Control Agency
.
7. Some counties in Minnesota offer sites that accept electronics from residents for free.
For example,
Hennepin County
operates two drop-off sites that accept household hazardous waste, electronics and recycling from county residents for no charge. Check with your local municipality. Keep in mind that many consumer products can't be put in the trash. These are banned from the garbage in Minnesota and must be handled properly:
CRT-containing devices, like televisions and computer monitors
Flat-panel video displays typically contain one or more mercury-containing lamps
Rechargeable batteries and battery packs
For more information about programs in your state, visit
electronicstakeback.com
.