At the start of its fifth year, Green is Universal, NBCUniversal's eco-initiative, serves up an easy way to make a difference: if everyone used reusable mugs instead of disposable cups, 9 million trees would be saved each year. The idea will come to life in a campaign, dubbed "Mugs Save Trees," during the company's annual Green Week. Green is Universal-branded coffee carts in New York, as well as select coffee shops in Los Angeles and Chicago, will dispense free coffee in reusable mugs from November 14-18. Consumers will also be invited to participate in a
Facebook contest
, where they can upload their own "mugs" – showing photos of themselves with their reusable cups. Throughout the week, during the hours of 6am-11am (6:30 am-11:30 am in Chicago), a total of 7500 mugs made from biodegradable corn plastic, 2500 gallons of coffee, and 15,000 sleeves of seed paper will be distributed. The first 100 people to show up at the designated coffee carts and shops each day will receive the Green is Universal reusable travel mugs. After the day's allotment of mugs is distributed, anyone who brings their own reusable mug will receive free coffee, along with the seed paper sleeve to plant at their home or office. Coffee cart and shop locations listed below.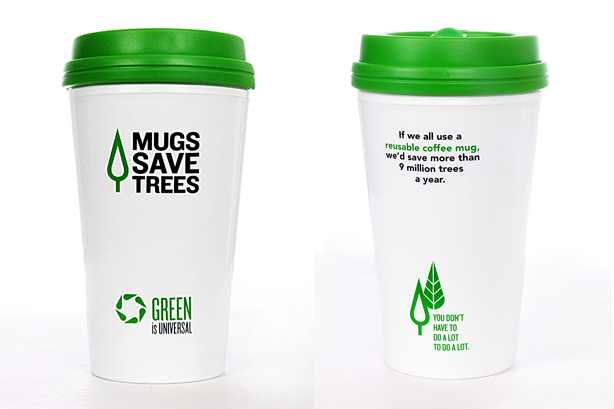 "Since launching Green is Universal five years ago, we've aimed to promote personal, practical ways people can make small lifestyle changes which have a collective positive impact on the environment," said Beth Colleton, Senior Vice President of Corporate Responsibility and Sustainability. "This year's "Mugs Save Trees" promotion does just that by highlighting the fact that millions of trees can be saved annually simply by switching to a reusable cup." Participants of the Facebook contest will be entered to win a porcelain Green is Universal mug signed by NBCUniversal talent including Jim Cramer, Maria Bartiromo and Chris Matthews. On November 20, one grand prize winner will be chosen to win a trip for four with Front of the Line passes to Universal Hollywood, NBCUniversal's theme park in Los Angeles, CA. Additionally, a 3-D art installation illustrating "The Life of a Paper Cup" will be on display in the window of the NBC Experience Store at New York's Rockefeller Center. The installation brings to life the harmful impact of paper cups and paints a picture of how small changes can make an enormous impact on our environment. Switching from disposable cups to reusable mugs can help save 5.7 billion gallons of water, enough energy to light 77,000 homes and divert 363 million pounds of solid waste from being generated annually.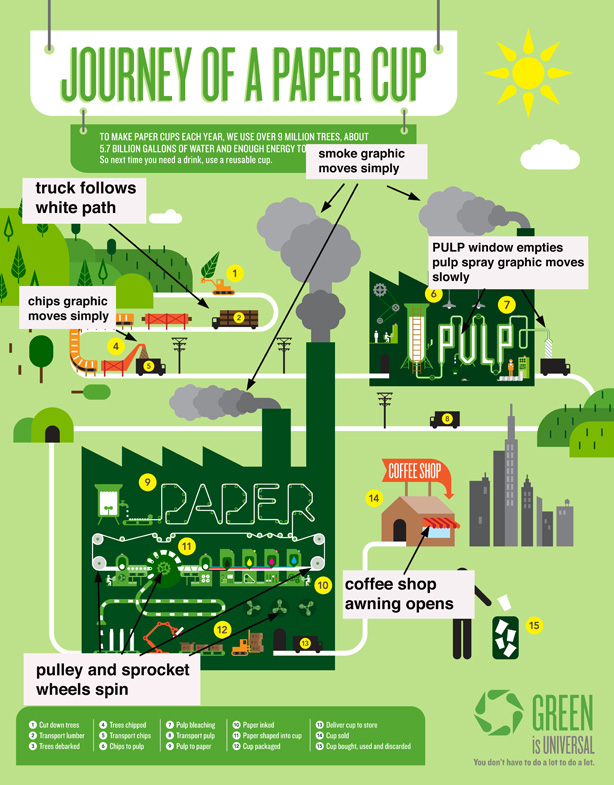 Location addresses
New York:
Green is Universal-branded carts at:
40th Street & 6th Avenue
33rd Street & Broadway
43rd Street & Broadway
49th Street & 6th Avenue
57th Street & 8th Avenue
Chicago:
Caffe Rom, Prudential Plaza, 180 N. Stetson Ave.
Caffe Rom, Hyatt Center, Franklin and Monroe streets
Caffe Rom, The Shoreham, 400 S. Water St.
Corner Bakery Café, 123 N. Wacker Dr.
Corner Bakery Café, 120 S. LaSalle St.
Los Angeles:
Priscilla's, 4150 W. Riverside Dr. # A, Burbank, CA 91505-4149
Proof Bakery, 3156 Glendale Blvd., Los Angeles, CA 90039
Groundwork's Coffee, 671 Rose Ave. (west of Lincoln Blvd.), Venice, CA 90291
Groundwork's Coffee, 2908 Main St. (south of Ashland), Santa Monica, CA 90405
Groundwork's Coffee, 1501 N. Cauhenga Blvd. (at Sunset), Hollywood, CA 90028
About Green is Universal
Launched in May 2007, "Green is Universal" is NBCUniversal's ongoing green initiative dedicated to raising Green awareness, effecting positive change to the environment, and making its own operations more sustainable. Throughout the year, NBCUniversal uses it numerous media and entertainment platforms to educate the public on the environment, with green-themed content airing across over 50 NBCUniversal brands.