I'm a huge fan of Patagonia, from the brand's warm outerwear and comfortable and stylish yoga clothing, to its concern about fair labor practices and its environmental impact. Not only does Patagonia care about the clothing and gear that it makes, but it also thinks about how it's made and what happens to it at the end of its useful life. The company wants its products to cause the least harm to the environment possible. Patagonia employees evaluate raw materials, invest in innovative technologies and thoroughly monitor their waste. When you have a Patagonia product that is finally worn out, you can return it, and the company will recycle it into new fiber or fabric (or repurpose what can't yet be recycled). Since 2005, when Patagonia launched its
Common Threads Initiative
, it has taken back 45 tons of clothing for recycling and made 34 tons into new clothes.
"Recycling is what we do when we're out of options to avoid, repair or reuse the product first. That's why I am so impressed with Patagonia for starting its Common Threads Initiative with the real solution: Reduce. Don't buy what we don't need. Repair: Fix stuff that still has life in it. Reuse: Share. Then, only when you've exhausted those options, recycle."

— Annie Leonard, author of 'The Story of Stuff'
Patagonia also donates 1% of its sales to support environmental organizations worldwide, funding at the grassroots level in countries and communities where they have people on the ground. If that's not enough, here are a few more reasons to love Patagonia. Take a look at some of the new fall styles:
Patagonia Women's Long-Sleeved Margot Dress
A graceful, contoured organic cotton stretch dress with three-quarter-length sleeves and a V-neck front. Made from 95% organic material.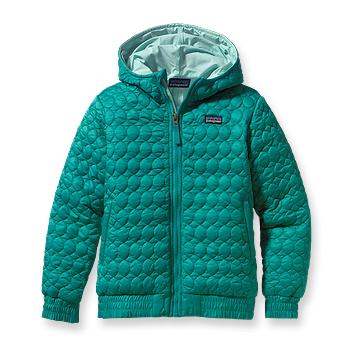 A highly wind- and water-resistant insulated jacket with a polyester shell and toasty, lightweight 150-g high-loft polyester insulation.
These soft, everyday socks made from a comfortable organic cotton/nylon blend have an ultra-soft feel and excellent stretch. Made of 52% organic material.
For more clothing, gear and information about Patagonia, visit
Patagonia.com
. For a more in-depth look inside the heart of Patagonia, check out their Common Threads Initiative, bluesign Standard, the Footprint Chronicles and
more
.