The holiday season is fast approaching, and that means fake snow and nonstop Christmas carols are quickly becoming part of our everyday reality. I'm a firm believe that you shouldn't decorate for Christmas before Thanksgiving, so here are some creative ideas for recycled decorations that celebrate abundance and a spirit of thankfulness for blessings great and small.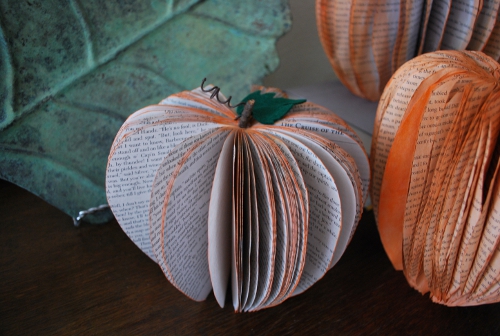 Recycled book pumpkins
All books, as long as they're still readable, should be donated to a library or school where they can continue to be used. But occasionally, a book will be water damaged or so dog-eared that it can't be shared in this way. In these cases, I can't think of a more adorable way to recycle them than by making these
whimsical paper pumpkins by Crafting Mom
. Once the cutting is done, this is a great craft for all the little cousins, nieces and nephews that appear over the holidays as well!
Junk mail turkey place cards
Speaking of extended family, the biggest challenge of any Thanksgiving holiday is finding a table big enough to fit them all. Keep the chaos to a minimum with
these delightful turkey place cards
made with junk mail and recycled cereal boxes.
Upcycled autumn buntings and garlands
Bunting and garland are arguably some of the most versatile holiday decorations. Use them to bring the Thanksgiving spirit to porch railings, staircases, fences, mailboxes, mantels, lampposts and more. Check out
Crafting a Green World's guide
to not one, but five different upcycled garlands you can make yourself. Got an idea for a recycled Thanksgiving decoration? Share it in a comment!