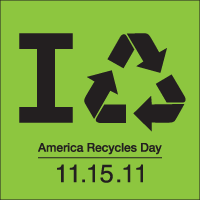 On Sunday, November 13, the
Cleveland Metroparks Zoo
will host its third annual
America Recycles Day event
. The zoo is involved in recycling year-round, collecting items such as plastic bottles, cell phones and accessories and printer cartridges. On America Recycles Day, it will add
athletic shoes
, pots and pans and documents in need of shredding to the list for one day only. The money raised from aluminum can donations on November 13 will go to the zoo's
Cans for Conservation program
, which raises money for animal and habitat restoration projects. In honor of the new
African Elephant Crossing
exhibit, this year's Cans for Conservation program is supporting research on African elephants in Botswana and Namibia. "We're trying to get the local community more involved in recycling," says Nancy Hughes, the zoo's Sustainability, Compost and Recycling Coordinator. "People who visit that day will have a chance to learn about the recycling efforts happening right here in our region." The zoo has invited businesses to set up tables to educate people about local recycling services. Lots of fun activities are planned, including making bags from old zoo banners, checking out boats made with plastic trash from the
Great Lake Erie Boat Float
and taking a rain barrel workshop from the
Cuyahoga Soil and Water Conservation District
. Hughes definitely sees a link between local sustainability efforts and animal conservation around the world. "In the end, recycling helps save animals. If you're not mining as many materials, it's keeping habitats intact," she says. That's why the zoo is actively engaged in green practices. In addition to recycling, it composts animal droppings, hay, wood chips and other plant material, which it uses on the grounds and sells to local residents. The zoo has made a conscious effort to conserve water, and some employees use bicycles to move around the zoo grounds.
The Cleveland Metropark Zoo is located at 3900 Wildlife Way in Cleveland. Normal zoo hours are 10 a.m. to 5 p.m. America Recycles Day activities will take place between 10 a.m. and 4 p.m.
Be sure to follow 1-800-RECYCLING on Twitter and Facebook for more on America Recycles Day.