Best Buy is a well-known one-stop shop for all things electronic, including flat-screen televisions, MP3 players, game systems and more. With all of that e-waste going out into the world, the company decided to launch a
recycling program
in all of its U.S. (including Puerto Rico) stores on February 15, 2009. Since this program's official start,
more than 25 million pounds of in-store take backs
(ISTBs) have been returned to the company's 1,044 locations.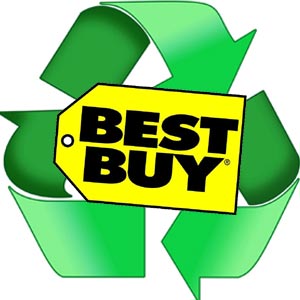 Best Buy's e-cycle program accepts
almost any type of electronic
, including inkjet cartridges, rechargeable batteries, gift cards, televisions, DVD players, computer monitors, audio and video cables, cell phones and other devices. It doesn't even matter if you purchased the product from Best Buy — the company just wants to be proactive in sparing landfills from unnecessary e-waste. Better still, if the company doesn't accept an item, it will help you find a place for you to recycle it. How's that for environmental responsibility? The most convenient aspects of this program are that there are only a few
exceptions that charge a fee
, and your television and other old appliances can be hauled away for free when you purchase a replacement product. Best Buy charges a $10 fee for televisions measuring 32'' and under, cathode ray tubes (CRTs) and some additional monitors, but a $10 in-store gift card offsets this charge. For more specific recycling exceptions, limitations and fees pertinent to your state, view program details via this handy
drop-down menu
. As more computers, phones, MP3 players and other electronics continue to evolve, more e-junk is created, but it's comforting to know that even the laziest consumer can recycle or trade in his or her old, unwanted goods with an environmentally responsible electronics company.