Electric vehicles have been hailed as the solution to rising oil prices and the high environmental toll of our love affair with personal transportation. But in order to be a truly eco-friendly alternative, electric-vehicle makers need to be able to prove that the process of building and disposing of EVs is as "waste-free" as driving them. For many people, EVs are still too expensive. Most don't realize that it's the advanced rechargeable battery that accounts for this high sticker price. General Electric recently announced an interesting plan for eliminating this extra cost, and making EVs more accessible to the general public: a battery leasing program. Not only would this battery leasing concept reduce the overall price of EVs, but it would also help bring down the price of ownership over time by eliminating the need to replace the batteries after eight to 10 years of use. The largest U.S. conglomerate is just at the "thinking stage" of such a move, GE head of research and development efforts Mark Little recently said at an event at Nissan Motor Company's research center near Detroit. According to an upcoming report from EV Update, GE's decision to dabble in EV battery leasing is part of a two-year collaborative research project between GE and Nissan that will help both companies gain a better understand of the energy demands of EVs and their owners, and to develop smart charging infrastructure for EVs.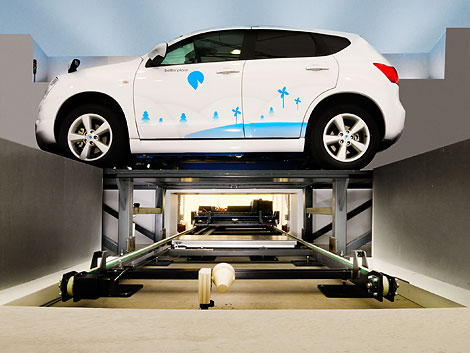 Per 
The Wall Street Journal
, Nissan has already
formed a venture
 with Japan-based trading house Sumitomo to recycle lithium-ion batteries from electric cars into energy storage devices for backup grid power. Of course, GE and Nissan aren't the only companies to realize that the batteries themselves could be a roadblock to EV adoption.
Better Place
, a Palo Alto, CA-based company, works with leading EV battery manufacturers to develop lithium-ion batteries that are high-performing, recyclable, environmentally friendly and safe. At the core of the company's business model is the development of "battery switching stations" that employ an ingenious robotic system that switches fresh batteries for depleted ones, cools and charges batteries in inventory and ensures that each EV driver gets a fully charged battery each time the vehicle arrives at a Better Place station. According to Better Place spokesperson Julie Mullins, the company is "evaluating both second-life applications for used batteries" and
working with automakers
, battery vendors and recyclers on "emerging technologies" for recovering and recycling most (95%) of the materials in batteries that are "no longer operational." The idea of battery leasing and swapping feels very similar to the car- and bike-sharing concepts that are sweeping the nation right now. Collaborative consumption is a great principle upon which to base new efforts in transportation, because it highlights access over ownership. When people know they can save money or eliminate waste by "borrowing" something instead of buying it, everyone wins.
You can see the step-by-step process for recycling EV batteries on the Tesla blog.