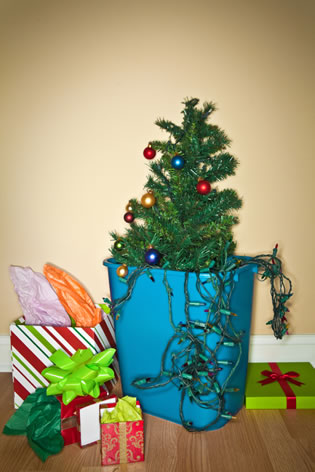 According to the
EPA
, Americans produce 25% more garbage between Thanksgiving and Christmas. That's an awful lot of garbage in just a few weeks! With much of it heading off to the landfill, we like to sort through and see what we can actually recycle before putting it on the curb. First and foremost is wrapping paper. Most varieties are made from virgin materials, but we are starting to see more and more with recycled content. If you buy shiny or sparkly wrapping paper, it cannot be recycled. You can make your own
wrapping from a paper bag
, maps or cloth, or look for some that is even made from hemp and flax. And those ribbons! Not only are they expensive, but they also are not recyclable. But many local hobby and craft stores will accept ribbon and reuse it in the store. Consider using ribbon made from natural materials, such as raffia, which can actually be composted. Next on our list is holiday cards. Every year, 2.65 billion holiday cards are sold in the U.S. You can recycle your cards from previous years by cutting them in half and using the front as a holiday postcard. Just make sure you don't send it to the person who previously sent it to you! If you're buying new cards, look for ones that are made from recycled content and avoid the shiny ones. Shiny typically means non-recyclable, but make sure you recycle the ones that can be. Did your amount of mail start to increase thanks to seasonal catalogs? It takes 14 million trees to produce the mail-order books that we receive annually. Along with direct mailings, catalogs account for more than 4 million tons of CO
2
-emitting landfill mass. Call the mail-order company and asked to be removed from the list, and make sure to toss those catalogs into your recycle bin. It's hard to believe that of the 33 million Christmas trees sold in North America each year, many end up in the landfill. If you decide to purchase a real tree (the fake ones, while reusable, are made from petroleum-derived sources) look for recycling centers that will chip it down for mulch. Additionally, many cities and towns are now offering Christmas tree collections after the holiday so that they can be recycled.
LED lights
are becoming more and more popular, and for good reason. Not only do they shave dollars off your electric bill, but also if one bulb goes out the rest will still work. LED lights use up to 95% less electricity, last up to 10 times longer and are safer since they produce very little heat. If you are getting rid of your old strands, The Home Depot will accept them and give you a discount for a new package of LEDs. For holiday parties (and really for every party throughout the year) rent real plates, glasses and silverware for a crowd (or use your own) instead of using the disposable kind. If you are looking for easy cleanup, check out plates that can be composted, such as those from
VerTerra
. How do you plan to make your holidays greener? We'd love to hear your stories!