One of the most exciting things about recycling is that it doesn't always mean the end of the line for an already-used material. Some innovative companies are finding ways to put these "waste" materials to work so that we can enjoy new products without negatively impacting the planet.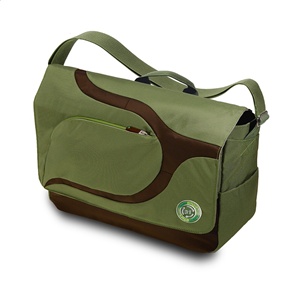 If you have active, fashionable friends to shop for this holiday season, here are three must-have fashions that incorporate recycled PET plastic.
Between smartphones, laptops and personal Wi-Fi hotspots, most people these days are lugging around more technology than a RadioShack in their pockets. If you've been looking for a low-impact way to organize and carry all these devices, look no further. The greatest part about the GreenSmart line of messenger bags and backpacks isn't the number of pockets or the glove-like way it will hold your precious computer (although those features are awesome). Instead, the most impressive feature is the number that's fixed on the front of each bag. Both the exterior and interior of these bags is derived from 100% post-consumer recycled plastic bottles. The number of bottles incorporated into each bag is represented on the front. The overall process of recycling old plastic bottles into fabric uses less energy than making polyester out of virgin chemicals.
Lots of people make New Years resolutions to get in shape or exercise more often. Unfortunately, the athletic gear that's needed to make good on these goals is often made from petroleum-based fabrics that irritate the skin and take their toll on the planet. Atayne athletic gear is different. The company collects trash (plastic bottles, old polyester clothing, used shoes, coconut husks, crab shells and race numbers) and turns it into innovative athletic and outdoor gear that patrons can customize with their own earth-friendly message.
The dead of winter might not be the most obvious time to think about flip-flops, but if you're already planning for spring break, you must check out these sweet sandals from Simple Shoes. Available for men and women, the Flippee is made with recycled PET from soda bottles. The foot form inserts are made of post-consumer recycled paper; a water-based (instead of petroleum-based) glue is used to hold the shoe together; and the Flippee's sole, carrying bag and hanger are all biodegradable.