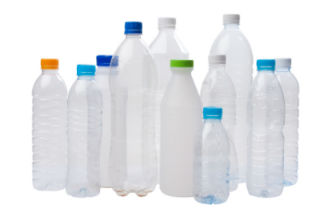 By JENNIFER PREYSS Staff Writer
Saturday, May 30, 2009
North Carolina is set to make recycling history this fall when it becomes one of the first states to ban the disposal of plastic bottle waste in traditional trash bins.
Beginning Oct. 1, rigid plastic containers such as soda and water bottles, milk jugs, and laundry detergent can no longer be discarded in non-recyclable waste bins.
Rigid plastics are defined as bottles that have a neck smaller than the body of the container.
The legislation, adopted by state lawmakers in 2005, does not prohibit the purchase of these everyday plastic items; it only affects how they're disposed.
Introduced by state Rep. Joe Hackney, D-Chatham, who is now the state House Speaker, the bill was designed to reduce energy consumption and lower greenhouse gas emissions while providing economic incentives for entrepreneurs.
"There's a huge environmental payoff, but what made this bill so attractive to legislators was the economic benefits it will provide statewide," says Scott Mouw, environmental supervisor for the North Carolina Department of the Environment and Natural Resources.
Plastic bottle recycling is big business both domestically and internationally, as corporations can cut their costs by reusing the containers instead of producing new ones from virgin materials, Mouw said.
For example, Polyethylene terephthalate plastic, or PET, is a type of resin in the polyester family typically found in water and soda bottles. It's used to manufacture synthetic fibers and other liquid containers. PET is assigned the number 1, which can be found in the center of the recycle symbol at the bottom of the bottle.
"If you go down the grocery store isle and start grabbing plastic bottles, you'll see the different resin codes on the bottom," Mouw said.
PET plastic is a profitable commodity for China, which annually competes with the U.S. for its purchase.
"They depend on the supply of PET and competition is fierce between the U.S. and China," Mouw said. "And here we are throwing away this massively lucrative product."
A bit more locally, Clear Path Recycling in Fayetteville is constructing a $50 million plant that will rely heavily on the company's ability to amass recycled PET plastics from regional material recovery facilities. After municipalities collect recycled waste from curbside pickup, materials are sent to MRFs where they are separated into piles of plastics, paper, cans and bottles before being sold to corporations or recycling centers for profit.
Once Clear Path has acquired these plastics, they will be converted into polyester and sold primarily to national carpet manufacturing giant Shaw Floors, Mouw said.
"What's the alternative for Shaw, or companies like Coca-Cola?" Mouw asks. "They would have to use natural gas, or virgin petroleum material to create their product, which is much more expensive. By cleaning, washing, chopping up and remaking recycled plastic containers into a new product, they can save money and energy and lower their bottom line."
Clear Path annually coverts about 250 pounds of PET plastic, or about 5 billion bottles. Constructing the plant in North Carolina also is expected to create about 100 new jobs.
Another type of plastic known as high-density polyethylene, or number 2 plastics, can be reformulated into many everyday items such as chemical resistant and wood composite items. HDPE's are the plastic commonly used in laundry detergent and milk containers.
North Carolina's Envision Plastic Industries located in Reidsville, is the second largest HDPE recycling plant in the country.
"From a business perspective, most local companies look at it like they can either sell their plastic to (North Carolina companies such as) Envision, or somewhere in China," Mouw said.
Mouw admits that enforcement of the new legislation will be limited. He also realizes that a certain percentage of plastics will continue to end up at the landfill.
Even so, the new law is intended to encourage recycling as a preferable option for both companies and individuals.
"It's pretty easy to start a recycling program," Mouw said.
Landfills will be inspected by solid waste managers beginning in October, but it is unlikely that individuals will be penalized unless they are discovered discarding large amounts of plastics. Restaurants, or grocery stores, for example, may be more easily monitored if they are not in compliance with the disposal law.
"It's not going to be a Big Brother law, but the best way to be in compliance with the law is to recycle plastic bottles," Mouw said. "Everyone wants to do the right thing, and the right thing is to recycle."
North Carolina is the first state in the Southeast to move forward with a statewide bottle ban. Massachusetts imposed a similar disposal ban, and Wisconsin law requires that residents recycle plastic bottles. A handful of municipalities across the U.S. have also imposed similar plastic bottle bans.
Contact Jennifer Preyss at jpreyss@coxnc.com