More good news by way of eco-friendliness is coming out of the South these days, this time in North Charleston, SC, with the announcement of advanced residential garbage collection:
single-stream recycling
.
As reported by local media
, the Park Circle neighborhood is taking on tight municipal budgets and environmental stewardship by making citywide refuse collection more convenient and efficient. The new equipment may look like traditional garbage bins and trucks, but improvements equate to what many hope is a greener future. First and foremost is the fact that several bins are no longer required — only one 65- or 95-gallon container is needed for North Charleston residents to dump their recyclables.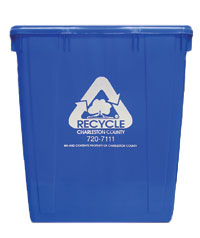 That's right, this neighborhood doesn't have to sort the bottles, cans, plastics, papers and glass like many of us are accustomed to. All recyclables now go in the same bin. Having only one bin makes it easier on the residents, requiring fewer trips to the curb. A large set of wheels on the huge containers comes in handy, too. Even the trucks that collect the new containers are an improvement on their predecessors. In fact, such a newfangled approach to collected recyclables had County Council Vice Chairman Elliott Summey so excited about saving money and natural resources that he was seen going door to door when the bins were delivered. So, how do new barrels and trucks exactly equate to saving money and the planet? Good question. Each new garbage bin costs $50 to $60, and is paid for with funds from the Charleston County solid waste budget. These costs (and more!) will be recouped in operating efficiencies and cost savings at landfills. By offering single-stream recycling, residents are more likely to take up the green practice. With more materials being recycled, more money can be made off the resale of plastics, metals, glass, etc. On the flip side of that same coin, the more material that is recycled also means less material is sent to landfills. And since landfills make money on dumping fees weighed by tonnage, fewer tons equates to fewer dollars spent. Lastly, when less material is coming into a landfill, said landfill can be used for a longer period of time, prolonging the need to invest in a new one. Another fun tidbit about the fancy new recycling bins is that each one contains a microchip and is tracked via satellite. This means a lost bin is never really lost; thus, the homeowner doesn't have to purchase a new one. Instead, one phone call to the county office will result in easily locating a wayward container. Longer-lasting bins, longer-lasting landfills and more efficient recycling operations — it all adds up to efficient operating for the county and eco-minded residents. In the words of Summey, North Charleston is offering a "high-tech, customer friendly" approach to waste. It's an important moment in our nation's history when an elected official in the South advocates that recycling "is obviously the right environmental thing to do." Summey continues, "It's going to save money and make things much more convenient." It just goes to show that we can all do our part in promoting sustainability. Kudos to Park Circle in North Charleston for providing us with its exemplary recycling efforts.