After successfully diverting an object from the waste stream and instead plunking it into a recycling bin, is doing the Snoopy dance of joy enough of a reward to make you rinse and repeat? Perhaps that's a bit of a stretch for the typical consumer. For most of us, some sort of carrot dangling from a stick goes a long way toward keeping our recycling aspirations at consistent levels, but the only high five that most of us get is a figurative one, courtesy of Mother Nature — that is, unless you live in an area serviced by
Recyclebank
.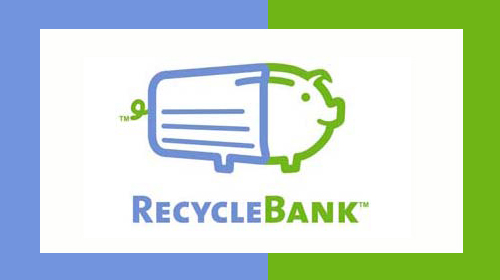 If you are geographically blessed and your municipality recognizes the win-win situation presented by this clever rewards-based program, then you are probably grinning from ear to ear. In these challenging economic times, Recyclebank's free service is a boon to consumers who are given a substantial pat on the back for a monthly recycling job well done in the form of $400 in annual credits that can be applied toward eco-themed (as well as traditional) products and services such as groceries, entertainment, gift cards and merchandise. Cities also benefit from adopting the program since they save significant funds by reducing the volume of waste that ends up in landfills.
And to think, it all started back in 2002, when Recyclebank co-founder Ron Gonen was still working on his M.B.A. at Columbia Business School and co-founder Patrick FitzGerald was working at a Wall Street law firm. In response to New York City choosing to suspend its recycling efforts in 2002 due to a
budget crisis
(not to mention lackluster consumer participation), FitzGerald and Gonen were inspired to make it valuable to both municipalities and consumers to step up to the recycling plate. Rolling out an initial single-stream
pilot program
to 2,500 Philly-based recyclers in two communities,
rates of consumer recycling
climbed exponentially to 90%, which is unarguably a success story in and of itself. Not surprisingly, Recyclebank has stepped up its presence in Philadelphia to include 60,000 households, and in the
past fiscal year
alone, the city collected a record-breaking 99,445 tons of curbside materials (including traditional standbys as well as plastics ranging from #1 through #7). When faced with the prospect of spending an average of $70 per ton of waste sent to the landfill or selling recyclables for cash, cities are recognizing that it literally pays for them to introduce Recyclebank into their communities. In Philadelphia's case, they have been so pleased with their recycling rate of success that they are aiming for a
waste diversion rate of 20%
in the next year, followed by a jump to 25% as soon as 2015. All a city must do to get the Recyclebank ball rolling is retrofit its waste management vehicles with special levers that weigh each radio frequency identification chip-equipped curbside recycling bin (determining the volume of materials deposited within). Monthly household recycling rates are then automatically monitored and logged online, resulting in the accumulation of points that consumers can redeem for valuable benefits. What was once limited to the East Coast has now expanded by leaps and bounds throughout the U.S. and even into Great Britain, with freestanding recycling kiosks augmenting the traditional curbside pick-up process. The company says that
diligent recyclers
in their program have collectively saved as many as 626,346,722 gallons of fuel and 9,376,447 trees, and now the eco-appeal has been boosted by including the option to participate in
electronics recycling
as well as applying for a
Gconomy Visa Card
, which offers Recyclebank Points for purchases (and happens to have no annual fee). All this while ensuring that we go a little easier on the environment! Recyclebank is one of those legitimately brilliant concepts proving that it really does pay to go green. The company's marketing director says that the company was "founded on the belief that environmental solutions create economic opportunities," and asserts that above all else, its "goal is to increase recycling, reduce landfill needs, cut disposal costs, and build local economies." With expansion into 25 states across America, Recyclebank's eco-dominance is just a matter of time, so log on
recyclebank.com
and make your recycling benefit our planet (as well as your wallet)!
Video interview with Ron Gonen, CEO of Recyclebank