According to the Sustainable Industries Green Office Guide (2009), more than 350 million ink and toner cartridges are thrown away in the U.S. each year.
Staples
, the world's largest office products company, is trying to put a dent in this number with its
ink and toner cartridge recycling services
.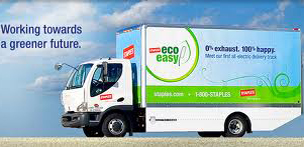 In February 2009, Staples became the first national retailer to offer an ink and toner recycling program that rewards customers for recycling any brand or type of cartridge. As well as reducing the waste going to landfills and saving resources, if you recycle your ink or toner cartridges with Staples, you will receive $2 back in Staples Rewards for cartridges you return to its stores (up to 10 cartridges per customer each month). The rewards can be used on any Staples purchase in store, online or over the phone. The program also allows Staples' drivers to pick up spent cartridges for recycling directly from
Staples Advantage
customers when delivering their office supplies. Even before 2009, Staples was already a leader in ink and toner cartridge recycling — the company recycled more than 22 million of these units in 2008. With this program expansion, Staples hoped to continue keeping millions of cartridges out of landfills. In 2010, the company collected more than 63 million cartridges for recycling. Staples' customer-based recycling efforts are global. Here are a few examples:
In Canada, Staples supports a Recycle for Education campaign, with each eligible ink and toner cartridge recycled in its retail stores. In 2010, more than 2 million cartridges were collected from retail locations. Since the program began in 2004, the program has raised more than $2.7 million for public schools in Canada. The goal is to collect 2 million ink and toner cartridges in 2011 through the program. Staples also collects ink and toner cartridges from its Canadian Staples Advantage business customers through driver pick-up programs.
In the U.K., Staples supports ChildLine, a nonprofit organization that provides counseling services for children and young people, with £1 (about $1.55 at press time) donated for each cartridge, plus a discount extended to customers for a future purchase.
Staples Australia also has a program for delivery customers linking charitable donations to ink and toner recycling.
Staples' current recycling program, part of its
EcoEasy
commitment, also collects cell phones, PDAs, computers and office equipment. In 2008, in addition to recycling the aforementioned 22 million ink and toner cartridges, the company also recycled approximately 4 million pounds of electronic waste.
For more information, visit
staples.com
.