Background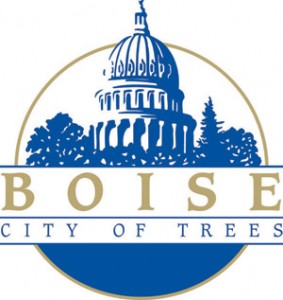 Household recycling in Boise (pop. 212,303) is available for those whole sign up for a blue cart with the city's Public Works department. The blue carts, which are placed curbside on pick-up days, are no sort (single-stream) bins. To further incentivize Boiseans, residents who choose not to recycle pay $4 more per month for garbage services.
Materials recycled
Paper
Including newspaper, shredded paper (must be put in a closed paper sack), magazines, catalogs, junk mail, white or pastel paper, food and beverage boxes, paper bags, envelopes, brochures, greeting cards, wrapping paper (none containing foil), construction paper and phonebooks. Corrugated cardboard can be flattened or cut to fit inside recycling bin.
Plastics
Plastic containers #1 through #7 (no larger than 3 gallons; smash or flatten; lids and labels may remain). Absolutely no Styrofoam.
Metals
Aluminum and steel cans (rinsed, no lids), pie pans, aluminum foil, uncoated metal hangers, empty aerosol cans
Other items
Used motor oil may be placed next to the bin (up to 2 gallons per week in a transparent, labeled plastic container).
Frequency
Curbside pick-up occurs every other week, coinciding with regular trash pick-up. To help residents remember pick-up days, color-coded decals are located inside the recycling cart lid. A
collection calendar
is located online. Carts must be placed curbside by 7 a.m. collection day and must return to property within 24 hours.
Other programs
Boise's downtown district benefits from the Downtown Recycling Program. At strategic spots scattered throughout the downtown, recycling centers collecting newspapers, aluminum cans and plastic bottles in separate receptacles can be found. Locations include City Hall, Capitol Park, CW Moore Park, Starbucks, Boise Public Library and more. A glass collection program has been set up with a partnership between Boise City, Allied Waste and ACHD. Residents can drop off glass bottles and containers (cleaned, without lids or caps) to a number of
locations throughout the city
. Curbside leaf collection occurs throughout November each year. Curbside Christmas tree pick-up takes place the second week in January. Though phonebooks can be put in the blue carts as mixed paper, they can also be dropped off year round at
area recycling centers
.
Household hazardous waste
collection events take place regularly at city-operated collection sites. For a calendar of events, see
here
.
More information
Visit the
City of Boise Public Works website
for more recycling program info.