Carpeting is one of the most widely used flooring options, not to mention one of the most inexpensive. It can be used in almost every room; it serves as an indoor filter as well as a sound absorber; and it adds color and texture to your home. According to the
Carpet and Rug Institute
, more than two-thirds of American homes have wall-to-wall carpeted floors. However, what many might not know is that almost all carpet is made from petroleum byproducts and synthetics such as polypropylene, nylon and acrylic. Today's carpets have also been treated with antistatic sprays, artificial dyes, antimicrobial treatments and finishes so that they are engineered to withstand stains and soils. We will say that the carpet, however, does act like a filter by trapping allergens and may even improve air quality in your home. But, in addition to the chemicals used when manufacturing carpet, the downside is that most people do not clean their carpets correctly or regularly, which can only exacerbate allergies and asthma.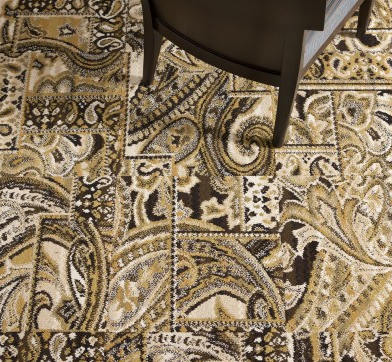 If you are considering adding carpeting to your home in 2012, we recommend looking for area rugs instead. Because it is more permanent, wall-to-wall carpeting is less healthy than smaller rugs because it is in fact harder to clean (vacuuming doesn't always do the trick) and, not to mention, several pounds of soil can accumulate in and under a carpet each year when not cleaned properly (if you've ever pulled up old carpet, you know that this is true). A great eco-friendly alternative to wall-to-wall carpeting is natural wool because of its warmth and durability. However, it is not appropriate for all rooms in the home (think entryways or the bathroom) because once it's wet it takes a while to dry. This means that it is more susceptive to mold and mildew, making it not as versatile. Hemp and sisal rugs, on the other hand, are more durable and are perfect for many locations, not to mention they are becoming widely available. We love these all-natural must-haves for 2012:
If you are replacing your carpet, as opposed to buying new, look for ways to recycle your old carpeting. On the
Carpet America Recovery Effort (CARE) website
 it is noted that an estimated 5 billion pounds of carpet was sent to landfills in 2003. Through CARE's website, you can find ways to
divert it from the landfill
and find companies that actually recycle it.