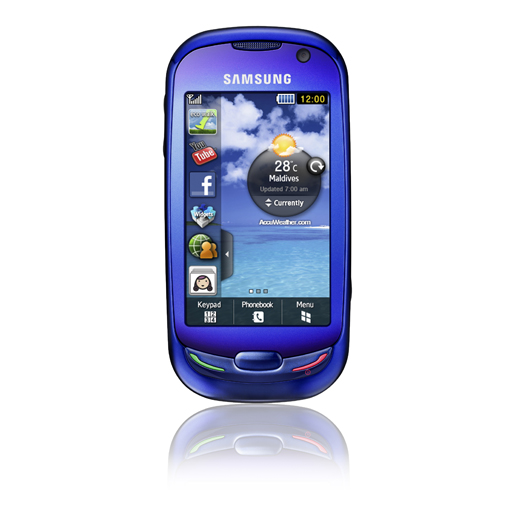 When it comes to electronics, especially those that are so widely used and needed like mobile phones, it's essential that shoppers do their homework. Taking the time to consider the product's full impact as well as the company's efforts to manufacture it in an environmentally sensitive manner will help you to make the best decision possible. If you (or your loved ones) are looking for a new phone, the
Samsung Blue Earth
is definitely worth an extra look. Launched in late 2009, the Samsung Blue Earth is still one of the most eco-friendly smartphones on the market, and came in first place in the mobile phone category of Greenpeace's 2010 survey of green electronics. The Blue Earth (also known as the Samsung GT-S7550) is made from post-consumer material extracted from water bottles, helping to reduce fuel consumption and carbon emissions during the manufacturing process. The device, including the charger, is free from harmful substances such as brominated flame retardants,
polyvinyl chloride
and
phthalates
. The Blue Earth also encourages eco-friendly behavior with its features like an "Eco mode," screen brightness, backlight duration and Bluetooth capability that can be set to an energy-efficient mode with just one click. The "Eco Walk" function allows users to count their steps with a built-in pedometer and calculate the reduction in CO
2
emission realized by walking as opposed to using a motor vehicle. This unique function allows users to see the value of walking by calculating the number of trees that have been saved. Samsung even specifically designed the packaging for Blue Earth to be compact and easy to recycle by utilizing paper and soy ink. Although Blue Earth comes with a five-star energy-efficient charger that uses only 0.03W of power in standby mode, chances are you won't have to use it much. The phone comes complete with a solar panel located on on its backside through which users can generate enough power to use the device anytime and anywhere.