Raleigh, NC-based 
Builders of Hope
is a unique nonprofit organization founded in 2007. The group recycles homes that would otherwise be torn down, giving them a "green makeover" by either moving them to new lots or leaving them to help in the revitalization of existing neighborhoods. These beautiful homes are sold at cost or rented to those with modest incomes.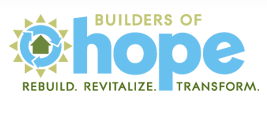 In the current
Builders of Hope annual report
, founder and CEO Nancy Murray explains how much this model of sustainability is needed. "According to the EPA, 250,000 houses a year are torn down across the country," she says. "This tear-down epidemic that quickly disposes of existing housing will reap substantial environmental consequences — 30% of our landfills are already comprised of construction debris. With an additional 33 million homes across the nation built prior to 1960, that percentage is destined to grow as municipalities continue to proliferate the "tear-it-down-and-build-it-new" strategy. "Builders of Hope is beginning to change this paradigm, as our model has proven to be an effective means of re-housing Americans and revitalizing troubled communities," Murray continues. "Our innovation in green building and sustainability practices has challenged the affordable housing status quo and invited accolades equally from government, foundations and the communities where we work."
Murray goes on to mention a recent study by North Carolina State University's School of Natural Resources that found the Builders of Hope method of home rescue and rehabilitation as compared to conventional new construction (same size and building criteria) defers an average of 19.36 tons of CO
2
per home from entering the environment. This tonnage is equivalent to CO
2
emissions from 1,979 gallons of unleaded gasoline. In 2008, according to
Natural Home & Garden
, Builders of Hope saved an estimated 2 million pounds of building material from the landfill. Most of the rescued homes were built between the 1930s and 1960s, and many are loaded with valuable features such as wood flooring, solid-surface countertops, crown molding and coveted built-ins.
This organization, which also has locations in New Orleans, Dallas and Charlotte, NC, is such an inspiration, and it is involved in so many amazing social initiatives that one article cannot do them all justice, so please visit the
Builders of Hope site
to learn more.