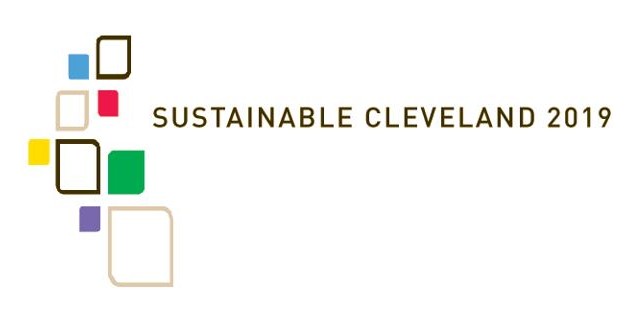 Back in 2009, the City of Cleveland started a 10-year initiative dubbed "
Sustainable Cleveland 2019
." Cleveland's Major, Frank G. Jackson, convened the first Sustainable Cleveland 2019 Summit in August of that year. The goal was to envision a decade-long campaign for "building an economic engine to empower a green city on a blue lake" by the 50th anniversary of the infamous Cuyahoga River fire. My parents grew up in Ohio, and I was born there, so naturally I have heard the story about the Cuyahoga River fire on many occasions. At one time, the Cuyahoga River was one of the most polluted rivers in the U.S. Fires had erupted on the river many times before June 22, 1969. But that was the fire that was the focus of a
Time
article
from that year that described the Cuyahoga as the river that "oozes rather than flows" and in which a person "does not drown but decays."
But today, Cleveland is dedicated to making its city a shining example of how to design and develop a thriving region that builds economic, social and environmental well being for all. To that end, a detailed plan for each year was devised:
2009: Since 2009, groups consisting of community volunteers have been engaged in a variety of sustainable economic initiatives.
2010: In 2010, the mayor convened Summit 2010: The global engine designed to "build resilience, activate local resources, take action and accelerate momentum."
2011: In 2011, energy efficiency was the promoted theme.
2012: The promoted theme in 2012 will be local food production. The plan is to focus on building the local food economy, from training 10,000 urban growers to building a distribution network around a local food economy. Visit growhio.org to learn more.
2013: Renewable resources and advanced energy
2014: The theme will be zero waste.
2015: Clean water will be the theme.
2016: Sustainable transportation
2017: Clean green spaces
2018: Neighborhood development
2019: This marks the culmination of 10 years of hard work and dedication to ensure that by 2019 Cleveland will be enjoying a green and sustainable economy.
According to
GreenCityBlueLake.org
, progress is being made: "The Lake Erie Wind Farm is moving toward development. Curbside recycling is coming back stronger than ever with automated collectors that can tell if citizens are participating." Cleveland Division of Waste Commissioner Ronnie Owens says that the cost savings and revenue from the city's commercial and residential recycling programs are expected to generate more than $1 million annually. Other progress the site noted: A forgotten big-box store in Collinwood (about 15 minutes northeast of the city) is being repurposed into a LEED Gold recreation center. The city is offering incentives to local and sustainable companies in its project bids. All of the city's streetlights will be replaced with LEDs — saving millions of dollars and reducing the city's carbon footprint by tons — once the City of Cleveland can attract the right manufacturer or deal. It would be a major step in the right direction if every mayor had the motto, "The city is incorporating sustainability in every decision it makes," like Cleveland's Mayor Jackson does.