Vawn and Mike Gray's
Reborn Glass
 products are about more than just beautiful home decorations. Made with 100% recycled bottle glass, they convey the importance of conserving precious resources. "If you put the night light in the bathroom, it's a reminder not to leave the water running while you're brushing your teeth, for example," Vawn says. Inspiring people to live greener lives is an intentional part of the Grays' business. Artists by trade, the husband-and-wife team spent more than 20 years dabbling in different art mediums such as metal, stone and clay, none of which were particularly green. All their artistic endeavors required using new products and, in the case of ceramics, energy-sucking kilns. In addition, they routinely had to travel to art shows and craft fairs to sell their products. Then, in 2007, they watched a concert designed to raise awareness about environmental issues. It was a wake-up call about how unsustainable their business was, and they decided to do something different with their artwork.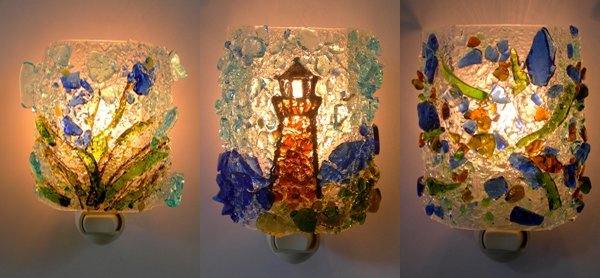 The new plan: Start working with a recycled material instead. As the Grays were exploring their possibilities, they talked to a relative who worked at the
Ritz-Carlton
 in Naples, FL. A very popular tourist destination, the hotel went through plenty of wine, beer and liquor bottles every month. It was also in the process of becoming certified as a green hotel through the
Florida Green Lodging Program
. This voluntary program, offered by the state's Department of Environmental Protection, recognizes hotels making an effort to protect the state's natural environment. In order to get certified, properties must make improvements in areas such as recycling, waste reduction, water conservation and indoor air quality, as well as efforts to educate the public and employees about ways to protect precious natural resources. The Ritz-Carlton was more than happy to provide its used bottles to the Grays. It took several months of experimentation, but the pair finally figured out how to fuse the glass together. They started producing night-lights because they fit in their existing ceramics kiln. There was immediate interest, and Reborn Glass was, well, born. The success was apparent early on: Vawn says they got busy enough to call on their kids to help with the operations. In addition to using 100% recycled glass bottles in their artwork, the Grays have found plenty of ways to bring environmentally friendly practices into their business. Products are fused in a much more energy-efficient kiln and packed in recycled materials for shipping. They focus on selling through their own website and catalogs like
Viva Terra
 instead of retail locations across the land, which has dramatically decreased their fossil-fuel usage. Reborn Glass also includes jewelry and drawer pulls in its product line. Yet the night-lights are still the most popular product. The lights feature landscapes, flowers and animals such as turtles. They're working on several new designs, including a horse, giraffe and a new version of the cat. Some of the lights are studded with glass from particular alcohol brands, which fans of spirits like Bombay Sapphire Gin and Skyy Vodka will appreciate. One of the limitations of using glass bottles is that they provide a narrow color palette. But Vawn says she doesn't mind being limited to the greens and blues and clear and brown shades she has to work with. They remind her of the trees, water, air and earth she is intent on encouraging people to protect.