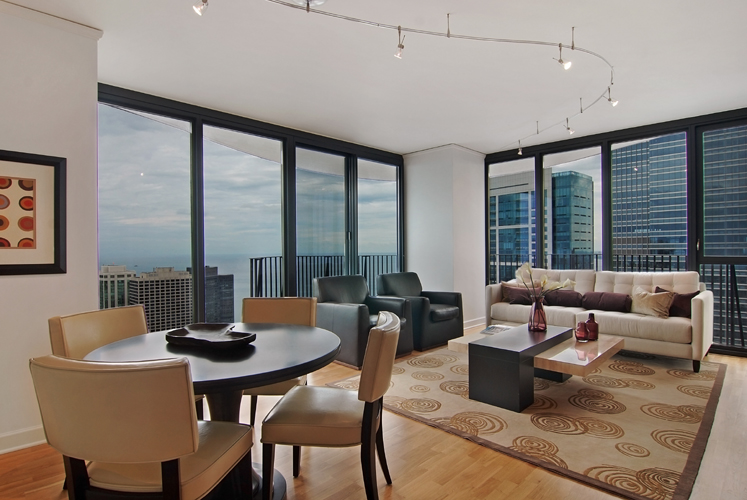 While we see many homes being built that incorporate sustainable practices, it's not often that you can find them in the heart of a city. We imagine that it is even more challenging to build green high rises, which are the majority of the buildings in many city cores. So, when we came across
Aqua
, a LEED-qualified 81-story mixed-use condo complex in Chicago, we were very impressed and wanted to know more. Located in downtown Chicago off of Lakeshore Drive and within a quarter-mile from several public transportation options, Aqua's condo units begin on the 53rd floor of the building (floors one to 52 include parkhomes, the Aqua Shore Club, gardens, a Radisson Hotel and rental units) and range from studios to three-bedroom residences. Boasting sweeping views courtesy of floor-to-ceiling windows, Aqua is a new addition to the Chicago skyline. The high rise is part of the 28-acre award-winning Lakeshore East community, built and managed by
Magellan Development
, and is located where the Chicago River meets Lake Michigan adjacent to Millennium Park and the Loop Business District. We'll start with the sustainable outdoor features, since one of Aqua's primary goals is to provide residents with access to the outdoors. At its base is an 80,000-square-foot outdoor garden with a deck that is landscaped to not only have a stunning visual effect, but also to help retain the storm water on site. All of the plants that are used for landscaping are native to the area, which helps them survive easier and conserve less resources. Also included in this landscaping is a very impressive green roof that, in addition to improving air quality, has major heating and cooling benefits. Aqua's website provides curious readers with all of the green details: "Besides reducing the building's summer temperature and cooling requirements, the green roof also significantly reduces winter heat loss," it states. "The heating/cooling benefits extend beyond Aqua by helping reduce the urban heat-island effect created by the high number of hard and reflective surfaces of most city buildings that re-radiate heat in the atmosphere." The expansive windows mentioned above are E-tinted glass, which aid in maintaining temperature control in each of the condos, while wave-like balconies extend away from the building to soak in the views.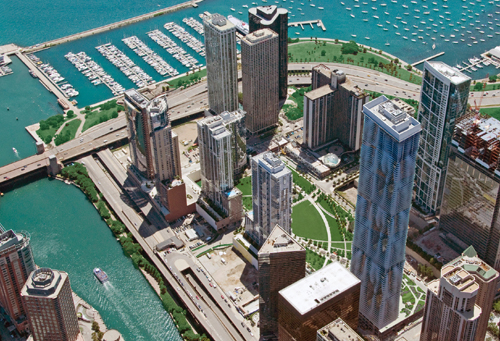 Each residence includes bamboo floors, which are extremely durable while also being renewable and recyclable. According to the website, "Aqua's wood flooring material is produced with 1/5th the amount of hardwood required for equivalent solids. Put another way, it produces five times more flooring with the same amount of virgin wood as solid wood flooring." Other green features include faucets and showerheads that reduce water consumption, and Hanstone quartz that is "Greenguard-certified," meaning it is a low-emitting, nonporous material that inhibits mold, mildew and bacteria growth. Residents of Aqua are encouraged to participate in a number of Magellan's eco-friendly initiatives. For example, Magellan organizes clothing and furniture drives for residents, promoting gently used items to be donated and repositioned. Recycling is also offered to residents, while walking and biking are encouraged to cut down on carbon emissions. Another impressive initiative is that Aqua is the Midwest's first electric-vehicle charging station that is open to the public. Aqua's public garage accommodates up to 24 plug-in vehicles and also offers discounts to those with a hybrid vehicle that use the garage daily. Aqua also notes that "by placing its parking entirely underground, a non-roof Heat Island Effect, Aqua completely eliminates hard surface pavements that contribute to thermal gradient differences between developed and undeveloped land." There are Aqua condominiums that are currently
available for sale
. Studios with one bath begin at $280,000 while a 4-bedroom, 3.5-bath condo is priced at just below $1.9 million. We really like the fact that Aqua is an impressive sustainable building in the heart of Chicago because of the materials and the planning process used. And last, but certainly not least, Magellan Development diverted 84% of construction waste from landfills simply by recycling it. Now that's an initiative that every other development company should stand behind as well.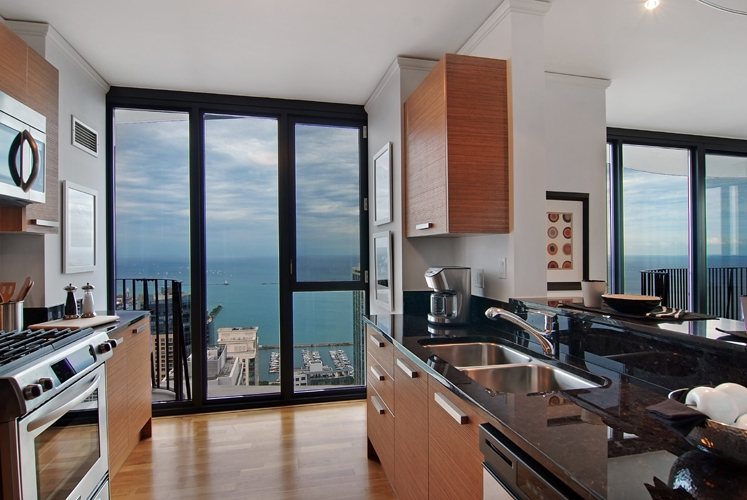 When in Chicago's Lakeshore East neighborhood, visit Aqua at 225 N. Columbus Dr.