Believe it or not, Earth Day is right around the corner. Our children are the future stewards of our planet, so as we teach them about the world we should include information about how to treat the earth. Taking them to an Earth Day event designed especially for teaching children about how to protect our planet in fun and exciting ways is a great approach to Earth Day. This year, if you live near the Chattahoochee Nature Center in Roswell, GA, you can go to the 10th annual Earth Day Kids Fest.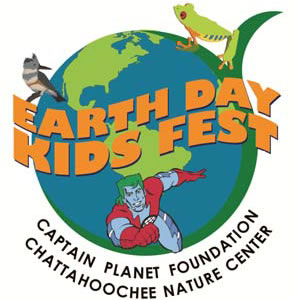 The
Captain Planet Foundation
is teaming up again with the Chattahoochee Nature Center for this hands-on environmental education experience. During the event, children of all ages are educated about ways to preserve and protect the environment through fun activities and performances. This year's goal is to encourage people to take individual actions as a part of the
Earth Day Network
's "Billion Acts of Green."
When:
Sat., April 14, 2012, 10 a.m. to 3 p.m.
Where:
Chattahoochee Nature Center, 9135 Willeo Rd., Roswell, GA 30075
Cost:
$8 for adults, $6 for seniors, $5 for children (children 2 and under are free), or ride your bike from home and get in free. Some of the fun family activities you can enjoy at the Earth Day Kids Fest:
Meet the world's first and only eco-superhero, Captain Planet.
Watch select Captain Planet and the Planeteers episodes in the Cowie Weiss Theater.
Live native animal presentations by Chattahoochee Nature Center
Enjoy face painting and canoe paddling on the nature center's pond.
 A green eco-village marketplace will provide guests a place to peruse an array of earth-friendly household goods and ideas to green both homes and businesses.
Bring your old cell phones and corks to be recycled.
For more information, visit CaptainPlanetFoundation.org.
The first Earth Day was celebrated on April 22, 1970. An estimated 20 million Americans from all walks of life gathered on that day to demand action on the environment from themselves and their elected officials. For more on the origins of Earth Day, read "Earth Day: How It All Began."