One of the first articles I wrote for 1-800-RECYCLING was about people who
upcycle old clothes into new fashions
. I was so inspired by what I learned that I decided to give upcycling a try myself. I have been sewing and crafting most of my adult life, so it didn't seem like much of a stretch to translate my skills into clothing redesign. I am also a dedicated thrift-store shopper, and there have been countless occasions where I've thought, "I would buy that if… " "… If those pants weren't quite so long." "… If that dress with the beautiful fabric wasn't such a hideous style." "… If I only had a pattern for turning that shirt into a purse."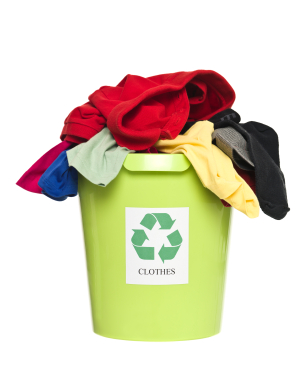 The next time I went shopping I looked at the racks with new eyes. Like magic, candidates for upcycling started popping out at me. There were two dresses with tops so skimpy I suspected I might get arrested if I wore them outdoors. But the skirts were nice, and how much work could it possibly be to chop off the top part and transform the bottom into something wearable? The same thing happened on future trips. There were several pairs of pants I could wear with a little hemming. There was a jersey bed sheet that could be cut up and made into the darling cardigan for which I'd just found a pattern. There was a shirt that would fit perfectly with the growing collection of old T-shirts I promised my husband I would make into a quilt. So, finding the clothing for projects was not hard. I already own a sewing machine, and there are a couple places in town that sell secondhand notions like thread and zippers. The only hang-up? The bane of crafters everywhere: time. I'm a bit notorious for starting projects but not finishing them. Three pairs of pants with pins in them, a dress with the elastic for its new waistband and the pieces of the cardigan have been sitting in a sad heap for months. I tried putting them on the arm of the couch so I'd remember to work on them, but after a while they blended in and I stopped seeing them. Every time we had company, they migrated to the sewing room, only to reappear on the couch when I was feeling ambitious. The cycle has repeated itself several times.
Earth Day
 conveniently falls on a Sunday this year, so I've rechristened it "DIY Day." I'm going to get together with my sister and my mom and try to finish at least one of these projects. And, as the year goes on, I'm going to institute a new rule: No buying stuff for new projects until an old one is finished. Hopefully that will force me to stay on the ball. Of course, if I find the perfect upcycling candidate the next time I'm perusing a thrift store, I might have to make an exception. I can always rechristen
America Recycles Day
 in November as a sewing day as well.
For more information on Earth Day, see the Earth Day 2012 guide.