Spruce up a tired bicycle with repurposed and recycled floral accents.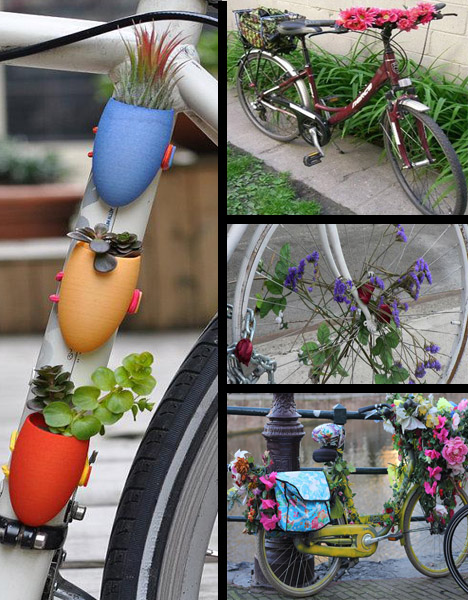 Rabid bicycle worship continues to take the world by storm, and if one or more of the following enthusiastic declarations hasn't already tumbled out of your own mouth, chances are pretty good that you have heard a friend, colleague or family member say…
"Riding on two wheels is totally eco-friendly!"
"It's worth pedaling for the gasoline and insurance savings alone!"
"Cycling is great for your body, plus there's no workout boredom!"
"Cruising around with the wind blowing through your hair is the greatest stress reliever ever!"
"Your blood pressure will instantly drop and you'll feel 10 years younger!"
"You'll probably get to your destination a lot quicker, plus it's a cinch finding a parking spot!"
Commuting on bicycle (or merely just tooling around on weekends) has enjoyed such a notable resurgence in popularity that you can't go anywhere without seeing the two-wheeled lifestyle depicted in every corner of pop culture, from art, design and fashion, to film and television (
Portlandia
, anyone?).
Desperately seeking a
non-dorky cycling helmet
? No problem. How about specially designed
urban cycling duds
? You got it! Walk into a big-box store and you'll now even be able to purchase a limited-edition designer bicycle adorned with Italian fashion house
Missoni's signature zigzag pattern
, or for those with far more disposable income, higher-end limited-edition versions by the likes of
Kate Spade
,
Hermes
,
Cynthia Rowley
,
Gucci
,
Chanel
and
Ralph Lauren
are also available.
With bicycle adoration at an all-time fever pitch, it's hardly surprising that fans are
sprucing up
their favorite mode of transportation with uniquely personalized flourishes such as
corseted seat covers
,
DIY baskets
,
hand-crocheted dress guards
,
fuzzy dangling handlebar dice
,
illuminated spokes
and
leather six-pack holders
. Securing this treasured possession onto a sturdy metal pole can now be achieved courtesy of a fanciful
ivy-like cable lock
or a conventional U-shaped security device sheathed with a
multicolored hand-knitted cozy
. Well, why shouldn't real live greenery get in on the bicycle bling-a-ling action? All things considered, bikes and portable gardens are kindred spirits, much in the same way that peanut butter and jelly were simply just meant to go together. Bicycle commuting is a zero-carbon endeavor, so it would seem that boosting one's ride with botanical oomph could conceivably make it even
more
planet friendly. Despite cyclers being exposed to
copious amounts of pollution
while commuting back and forth, wouldn't it be cool if portable plants were somehow capable of yielding a personalized smog filtration system? Hey, there's no harm in dreaming. You're intrigued, aren't you? Well there's no reason why your bike should be left out of all the plant-inspired fun: