I'm in love. Seriously. Words can't describe how much I love
Holy Lamb Organics
. I have reported about many great companies in the past — companies that have inspired me and filled me with hope about a more sustainable future — but this company takes my breath away.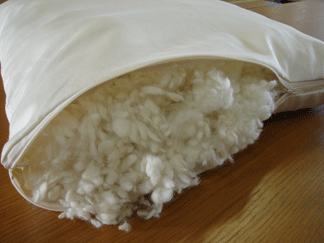 Willow Whitton had the inspiration for Holy Lamb Organics while on a backpacking trip in 2000. She could only find backpacking pillows that were 100% synthetic, and the idea for a natural pillow alternative was born. By the end of the trip, she had a full business plan in mind that included an intended zero-waste facility. Some highlights sure to make your heart skip a beat:
100% zero waste of manufacturing byproducts
: Holy Lamb Organics reuses, recycles or composts
all
of the materials used in production. None of the raw materials ever enter a landfill. For example, the smallest scraps of thread, wool and fabric are upcycled through the
ReKindle Program
. When you make a purchase from the ReKindle Program you are supporting the reuse and recycling of the "scrap resources" that Holy Lamb Organics generates in the facility. Normally, scraps like these would be thrown away. But they upcycle even the tiniest pieces of organic cotton fabric or wool, dye them with natural or low-impact dyes and create beautiful products. Their featured crafter right now is Tiffany Korn with Heart Felt Woolies. If you want to learn more about the products available, visit
holylamborganics.com/rekindle.html
. In 2008, Holy Lamb Organics to Oakville, WA, a small town near the state's capital. They renovated the historic "Little Bit" general store. The building was built in 1902 and served as Oakville's general store for more than 80 years. It has been fully restored to its original glory with innovative additions such as natural green insulation and an organic community garden on site. Any of the "scrap resources" that are too small to be used for products are composted or used as a mulch layering for Holy Lamb Organics' community garden paths. Larger and more useful scraps are placed in the company's Free Bin, located in the Oakville store, to give away or donate to area schools. For example, the Brightwater Waldorf School in Seattle used the fabric scraps that come from Holy Lamb Organics' Nursing Pillow to make sails for boats.
Commitment to sustainable and organic
: Holy Lamb Organics only offers natural bedding products — the company does not use any synthetics. All of its cotton is
organic
, and all of its wool is grown by small U.S. sheep farmers that are part of the
Premium Eco-Wool Program
.
Chemical and scent-free facility
: Holy Lamb Organics' facility is a chemical- and scent-free environment, both for the health of its employees and to ensure the quality of its products. Only natural, mild, biodegradable soap is used to clean the shop. In addition, employees come to work scent-free and are required to refrain from wearing perfume, cologne, scented hand creams and so on. I was sold when I read the company's mission statement:
"To promote health, well-being and to strengthen an economy based on ecology through manufacturing a line of high quality, all-natural, made in the U.S.A. organic bedding products produced using sustainable and ecological practices. Holy Lamb Organics specializes in using only organic cotton fabrics and local Premium Eco-Wool from the U.S. Western Regions. We are proud to be a zero waste company (reusing/recycling all of our production by-products) and are committed to providing exceptional customer service and quality products."
Holy Lamb Organics' bedding line is featured in more than 80 stores across the U.S and Canada. If you want more information, visit the company's website at
holylamborganics.com
.