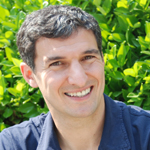 It's been a busy year for Honest Tea's "TeaEO" Seth Goldman since he last joined "Green is Good." Coca-Cola has exercised its option to buy the full rights to the company, the line has completed a lengthy switch to fair-trade tea varieties and it is introducing a few new products, including a cocoa-infused beverage and a zero-calorie organically sweetened lemonade. Honest Tea has grown by leaps and bounds in its 13 years, yes, but its original commitments as a company remain very much in place: working to make healthy, environmentally friendly drinks that skip the sugar and focus on all-natural ingredients. Still, even with its growth, Honest Tea's focus remains to "tread as lightly on the earth as it can." "We have the potential, over time, to be wherever Coca-Cola products are sold," Goldman explains. "That's an opportunity to take our mission to a much deeper level."
For more on Seth Goldman, click here.
A decades-long journey through the restaurant industry, from washing dishes in Southern California, to stints at TGI Fridays, Pizza Hut and Baja Fresh, brought Greg Dollarhyde to Los Angeles-based Veggie Grill. The fast-casual restaurants feature indulgent 100% plant-based fare. The Veggie Grill's claim to fame is its healthy slant — no trans fats, no hydrogenated oils and few sugars — that doesn't skimp on quality or taste. "The myth we're trying to overcome is bland, mushy sautéed vegetables, salads and bowls," Dollarhyde says. "[At The Veggie Grill ] you get the combination of delicious food, fair price, a great crowd of people and a menu that really works."
For more on Greg Dollarhyde, click here.