Background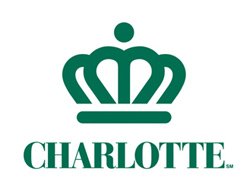 Charlotte's (pop. 775,202) Recycle It! curbside recycling initiative is a growing program that utilizes 96-gallon carts in a single-stream system. North Carolina state law declares that plastic items numbered 1 and 2 must be recycled, and as such, recycling in the Queen City has steadily picked up. Recycle It! accepts a broad number of items, making it easy for Charlotteans to get involved. Residents can call 311 to obtain a recycling cart, while a second cart may be purchased for $40 if needed.
Materials recycled
Paper (included corrugated cardboard cut into pieces no larger than 3×3 feet), plastics #1-5 and #7, aluminum, glass, juice boxes, milk and juice cartons, aerosol cans (empty), spiral paper cans, steel and tin cans
Frequency
Curbside pick-up occurs on a weekly basis, day of the week depending on location (a collection map is available
online
.) Bins must be placed curbside by 6:30 a.m. on the day of pick-up, but no earlier than the day before pick-up. Carts must be within 2 feet from the curb and at least 3 feet from garbage bins, bulk waste bundles, yard waste bundles, vehicles, mailboxes and poles/hydrants. Carts must be returned to property by midnight following pick-up, or the owner is subject to a $50 fine.
Other programs
The city collects yard waste on regularly scheduled pick-up days to be converted into mulch or compost. Items must be placed in uncovered containers 32 gallons or smaller and less than 75 pounds. Accepted items: grass clippings (placed in a plastic bag), leaves (placed in a plastic bag), tree limbs, logs, plants, pruning, shrubbery, tree trimmings, weeds and other similar items. Limbs and brush must be no longer than 5 feet and less than 4 inches in diameter. Mecklenburg County (where Charlotte sits) maintains four hazardous waste drop-off sites for residents' convenience. Accepted items: paint thinner, paints, stripper, solvents, flammable oils, gas, kerosene, pesticides, cleaning agents, household batteries (both alkaline and nickel-cadmium) lead acid batteries, photographic chemicals, aerosol cans, fluorescent light bulbs, pool chemicals and unknown chemicals. All items must be securely stored in original container and clearly labeled. They cannot be mixed. Locations: North Mecklenburg Recycling Center (12300 N. Statesville Rd.; Monday through Saturday from 7 a.m. to 4 p.m.), Hickory Grove Recycling Center (8007 Pence Rd.; Monday through Saturday from 7 a.m. to 4 p.m.), Foxhole Recycling Center (17131 Lancaster Hwy.; from 7 a.m. to 4 p.m.) and West Mecklenburg Recycling Center (8440 Byrum Dr.; Monday through Saturday from 7 a.m. to 4 p.m.).
More information
Visit the
City of Charlotte and Mecklenburg County Garbage and Recycling website
for more recycling program info.