Freeganism.
It's a funny little word, huh? For all intents and purposes, it refers to a thriving subculture of anticonsumerists who are deeply opposed to the widespread waste in our society. In response, these individuals make a habit of
frequenting dumpsters
located outside of restaurants and assorted businesses in search of discarded items that can be easily retrieved, repurposed or otherwise utilized. Yes, most of us are familiar with this practice by its more common term,
dumpster diving
. While the very notion of plunging head first into a massive garbage container probably gives the majority of the population a bad case of the heebie-jeebies, it turns out that far too much of what today's businesses dispose of is actually perfectly usable. Between what the commercial sector gives the heave-ho to and what households across the nation contribute, overall trash accumulation has risen to massive proportions. On average,
Americans collectively discard 250 million tons of solid waste annually
— almost double the volume of other nations — which is the equivalent of roughly 5 pounds per U.S. citizen every single day. The good news is that
practically 65 million tons
of what we threw away in 2010 was actually recycled along with an additional 49 million tons (whether composted or ultimately incinerated for energy recovery). In other words, 136 million tons of municipal solid waste was actually landfilled across our country. But let's be honest: That's still a sizable amount. Don't worry. No one is suggesting that you personally
join the ranks
of the recycling bold
who make meals out of food
that is purportedly past its prime. Nevertheless, what's so bad about rethinking the non-edible objects that you're prone to depositing in your garbage can? With a different mind frame, you too will soon discover that what once might have seemed perfectly trash worthy is in fact ripe for repurposing. Think outside of the bin and you'll be rewarded with a treasure trove of one-of-a-kind creations that will help you to feather your nest in enviable, eco-enlightened style.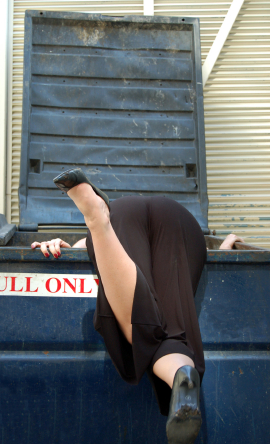 Oh, the possibilities
A broken lamp and an old picture frame transformed into… a DIY
mood board
. Window shutters transformed into… a
wall-mounted jewelry organizer
. Glass windows transformed into… a
garden cold frame
. Shredded scrap paper, dryer lint and paper egg cartons transformed into… homemade
firestarters
for your barbeque grill, fire pit or fireplace. Pet fur transformed into…
spun yarn
,
cat play toys
and yes, even
handbags
. A computer monitor can be transformed into… a
cozy hamster pad
, a 
trash bin
or a homemade
video projector
. Old denim jean pockets transformed into…
potholders
, a
utility apron
or a
placemat
(with built-in silverware pouch). A computer tower transformed into… a wall-mounted
storage unit
,
mailbox
or a
mini greenhouse
. 2-liter soda bottles transformed into… a
fringed light shade
or a
complete herb garden
. A porcelain toilet tank transformed into… a
garden planter
resurfaced with a wonderfully colorful mosaic design. Your child's beat-up skateboards transformed into… a
sturdy outdoor bench
. Expired calendar pages transformed into…
hand-folded envelopes
. Spaghetti sauce jars transformed into…
jewel-toned, bedecked Moroccan lanterns
. Oodles of old suitcases transformed into… a
massive wall storage solution
(or a single case transformed into… a
padded hallway stool
. An old drawer transformed into… a
practical side table
. A metal mint tin transformed into… a
petite portable candle
,
furry monster
,
succulent garden
or a
multi-tiered organizational valet
. Bottle caps transformed into…
ring pincushions
. A spoon transformed into… a
necklace pendant
, a fork transformed into…
an eggcup
, or a little of both transformed into… a
jewelry tree
or
flatware wall clock
. A typewriter transformed into… a
waffle iron
or an
artist's paintbrush holder
. Old T-shirts transformed into…
crocheted/knitted dishcloths
, a
braided belt
or
perpetually blooming blossoms
. A beat-up garden hose transformed into… a wonderfully insulating
birdhouse
. A picture frame transformed into… a
vertical succulent garden
. An old door, storm windows, fence boards, table legs and door knobs transformed into… a
garden plant potting station
.