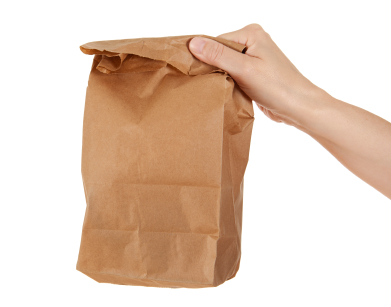 Evoking images of humble peanut butter and jelly lunches, sensibly shrouded school texts and
adorkable
hand puppets, the brown paper bag has long been the poster child for practical, utilitarian applications. Thanks to its raw, unbleached visage and durable construction, we automatically reach for a bag anytime we want to line our countertop compost container or deposit accidentally shattered drinking glass shards inside, but that's typically where the buck stops. Outside the realm of that which is positively functional, when was the last time that you said to yourself, "Hmm, a brown paper bag would come in handy right about now"? Good thing you're reading this article. In addition to serving failsafe applications such as absorbing the excess oil out of a batch of fried chicken or morphing into a wonderfully cozy nesting material for burrowing pocket pets such as hamsters and gerbils, brown paper bags are equally as effective in a household worm bin or cushioning delicate holiday ornaments while in storage. Of course, things get really interesting once they emerge from their comfort zone and venture into the wild, wacky world of the creative DIYer. With a little primping and preening, a brown paper bag can be easily transformed into the supermodel of the crafty set. Go ahead and rediscover what you've been missing out on for far too long: Create an
instant feline playhouse
without breaking a sweat! Nestle 10 folded bags — one inside the other — for a
disposable yet biodegradable waste solution
in your home office. Adorn your next holiday or birthday gift with
artfully stitched wrapping
that's fit to be bow-tied. Don a
flirty, flouncy cocktail dress
made all the more party worthy with the addition of a
quilled necklace pendant and matching earrings
. Usher in spring courtesy of this
brown paper nest
or a
handcrafted eco-bouquet
and mark the ultimate transition to autumn by erecting
fireplace manteltrees
. Pass on the store-bought Halloween costumes in favor of these
child-worthy creations
that will be just as enjoyable to make as they will be to wear. Once Turkey Day comes, dazzle the kiddies with a paper 
turkey bursting at the seams with popcorn stuffing
. Giant
holiday-themed luminaries
will grace the pathway to your home in "Why didn't I think of that?" style. Restore the wow to your holiday wall with a
tree-shaped advent calendar
or
origami cranes
. Celebrate an upcoming birthday by decking your halls with a
festive party garland
or mailing out a package in a
handcrafted brown bag envelope
. Surprise a loved one with a
pocket-sized caterpillar-style inspiration book
, a
homemade scrapbook
or a stack of always practical yet thoroughly appreciated
brown paper bag recipe cards
. Put your best career foot forward with
brown paper bag business cards
and
journal cover
boasting a faux leather façade. For more animal-free leather ideas,
decoupage old furniture
(think chairs,
dressers
and tabletops) as well as
floors
,
stairs
and
walls
for the ultimate eco-facelift. Grace your newly revamped tabletop with a complete set of
placemats
. While taking a well-deserved snack break by indulging in
homemade, chemical-free microwave popcorn
,
this brown paper bag zine
will likely recharge your creative eco-spirit. Put the kibosh on overenthusiastic weeds by creating a
natural mulch barrier
and then reserve extra seeds from this year's bounty inside convenient
brown paper packets
.