Background
A hub for business activity and New Hampshire's largest city, Manchester (pop. 110,209) has unveiled a single-stream recycling program that far bigger cities are still struggling to emulate. In recent years, the city has only had a 10% recycling rate, but with a flashy new single-stream system, it is aiming to recycle approximately 10,000 tons of material out of its waste stream annually to reach a recycling rate of 25%.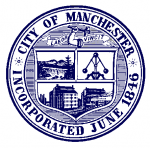 With its new program, the city has introduced microchipped blue recycling carts (and the tagline, "Being Green Starts with Blue") that range in sizes from 35 gallons to 95 gallons depending on the dwelling. This microchipping system allows the city to keep track of its carts, ultimately saving money in the long run. Residents looking to start recycling simply need to
sign up online
for a free recycling cart. The city will then contact the resident to schedule cart delivery.
Materials recycled
Paper
Including cardboard, cereal boxes, egg cartons, folders, junk mail, magazines, milk cartons, newsprint, office paper, paper towel rolls, phone books, shoe boxes and soft-cover boxes. All paper can be placed in the bin loose but must be clean (no food residue, etc.).
Plastics
All plastic containers marked #1 through #7 are acceptable, including beverage/food, detergent, pails and oil/antifreeze (drained and clean). All plastics must be clearly marked with their number and can be placed loosely in the bin, but must be clean. No plastic bags or Styrofoam accepted.
Metals
Steel or aluminum food and beverage containers are acceptable, including deposit/nondeposit beverage cans, metal food cans, aluminum foil and metal lids. Metals can be placed loosely in the cart, but they must be clean. Labels are OK.
Glass
All clear and colored glass; food and beverage containers, including juice, all food and sauce jars, liquor and wine bottles and condiment containers are accepted (must be rinsed; labels OK).
Frequency
Curbside pick-up occurs on a weekly basis, same day as trash pick-up (a collection map is available
online
). Carts must be spaced 3 feet from any obstructions.
Other programs
Manchester's
drop-off recycling facility
(500 Dunbarton Rd.) recycles most types of recyclables, including e-waste and other difficult-to-recycle objects. Most materials are recycled free of charge for Manchester residents or those with a business in the city. Hours are Monday through Friday, from 7:30 a.m. to 3 p.m., and the first and third Saturday of the month, from 7 to 11:30 a.m. Yard waste is collected periodically throughout the year to be made into compost. Acceptable items include leaves, grass clippings, weeds, hedge trimmings, garden wastes, twigs and brush no larger than 3 inches in diameter and 3 feet in length. These materials must be placed in a 33-gallon or smaller container that clearly displays the city's Official Yard Waste sticker. Containers may not exceed 75 pounds. Depending on the season, yard waste pick-up can occur weekly or biweekly. The city does not collect yard waste from December through March (with the exception of Christmas trees in January). A full yearly schedule is located
online
. Yard waste must be placed curbside by 7 a.m. on recycling and trash pick-up day.
More information
Visit the
City of Manchester Single Stream Recycling website
for more recycling program info.