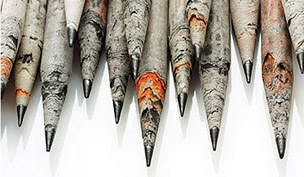 According to
Rainforest Relief
, many of the pencils used in the U.S. are made from endangered rainforest wood from Indonesia and Malaysia. The wood is light in color and has no grain, offering a slight bend. Endangered rainforest wood is also typically used in imported pencils. Yet we are losing rainforest at an alarming rate — a pace of 1.5 acres every second. Recycling is essential to reduce the demand for new wood, and the good news is that a company is making recycled pencils right now.
TreeSmart
, a company based out of Lake Oswego, OR, has developed pencils made of recycled newspaper.
The manufacturing process
The process begins by recycling newspapers.
Each sheet of newsprint is cut to the specific dimensions of the pencil.
Then, the safe, nontoxic adhesive is mixed with each sheet of newspaper and the graphite core.
The graphite is then hand rolled to start each TreeSmart pencil. After that, each is oven dried for 24 hours. A special adhesive formula used to bind the newsprint together dries as hard as wood. After drying, the pencils are smoothed to a consistent round barrel and are ready for custom imprinting if desired.
After the pencil core is sized, shaped and printed, it is ready for the eraser assembly. Both the ferrule (the brass tube) and a latex-free eraser are attached to the end of each pencil.
Recycling just a 2.5-foot stack of newspapers saves one 20-foot pine tree, and four recycled pencils can be made from one broad sheet of recycled newsprint, according to TreeSmart.
To learn more about TreeSmart, visit its site at treesmart.com.