Your once slick and
très
hip skateboard now looks like it has become a mangled victim of the most drawn-out street fight in history. Devout skaters know that this inevitable reality comes with the territory, but that doesn't mean that it's time to bid your board a final
adieu
. While it may not necessarily be safe to ride anymore, a worn-out board, which most commonly consists of multiple
maple wood veneers
bonded together, is teeming with repurposing possibilities. Of course, it would be just as easy to throw that chewed-up and spit-out deck far, far away. Just two years ago, the U.S. Environmental Protection Agency determined that
6.4% of the 250 million tons
of municipal solid waste generated across the country was wood based. While old skateboards likely comprise a relatively small portion of that overall figure (along with far more plentiful, higher volume wood-based refuse such as construction materials, disaster debris, tree harvesting residuals, etc.), there's a far better, infinitely cooler end use for old decks.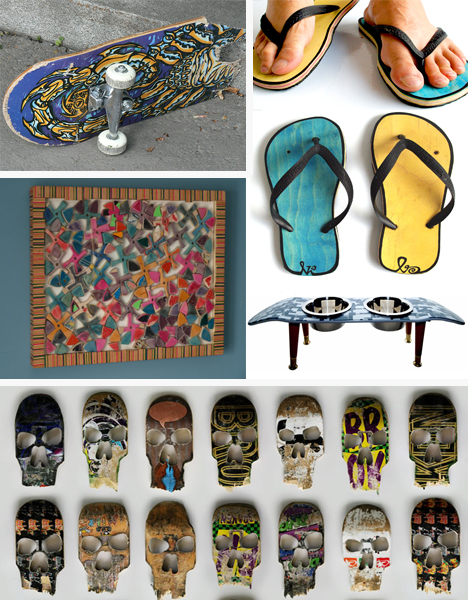 Unlike irregularly shaped and often knotted raw wood, skateboards have already gone through the milling process, yielding a smooth surface that happens to be ideal for all sorts of creative recycling applications. Perhaps the easiest and most obvious thing to do with an old board is to mount it on the wall for a
stylish yet dead-simple shelf
, but that merely scratches the surface of its reincarnation possibilities:
As cool as it may sound to get your eco-craft on, sometimes the fast pace of life and/or ever-growing responsibilities ultimately prevent us from taking the plunge. No worries — there is another great option that's worth serious consideration. For those who find themselves with a few boards that are perhaps a little rough around the edges but still in reasonable condition, give them to
iRideiRecycle
. The organization will transform them into
eye-catching art tiles
(among other creative artsy creations) that can be used to revamp and enhance all types of surfaces.