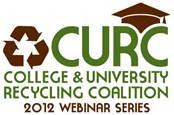 WHAT: CURC will host a technical webinar to provide college and university recycling professionals with specific ideas related to the business aspects of recycling. Webinar participants will:
Hear tips for creating and maintaining an effective budget and where to make cuts when needed.
Discover creative ideas for financing projects and programs.
Learn about different types of contracts, elements that define a good contract, incentive items and revenue share.
WHO: Collegiate Recycling Experts:
 Lin King, Manager of Campus Refuse and Recycling Services, University of California-Berkeley; Bill Del Vecchio, Manager, Recycling and Waste Disposal, Georgetown University; Tracy L. Artley, Sustainability Programs Coordinator, University of Michigan
Moderator:
Rob Gogan, Recycling and Waste Manager, Harvard University
WHEN:
Thursday, July 12, 2012 from 1–2:30 p.m. EST
DETAILS: Registration is free. 
Interested participants may reserve their space at: 
https://www1.gotomeeting.com/register/320563753
About CURC
The College and University Recycling Coalition (CURC) is a membership-based nonprofit organization made up of campus-based recycling professionals seeking to exchange technical knowledge and best practices on recycling and waste reduction programs between institutions of higher learning. Originally formed in 1992, CURC became a technical council of the National Recycling Coalition in 1995 before branching off as an independent organization in 2009. Today, CURC counts nearly 900 members and is led by a steering committee of recycling and sustainability program managers from universities across the United States. Among other initiatives, CURC supports collegiate recycling programs through webinar series, annual workshops, a quarterly e-newsletter and the development of best-practices manuals and toolkits. CURC's webinar series is done in partnership with The Association for the Advancement of Sustainability in Higher Education (AASHE) sponsored by the Alcoa Foundation and Keep America Beautiful, Inc. Learn more at 
curc3r.org
.