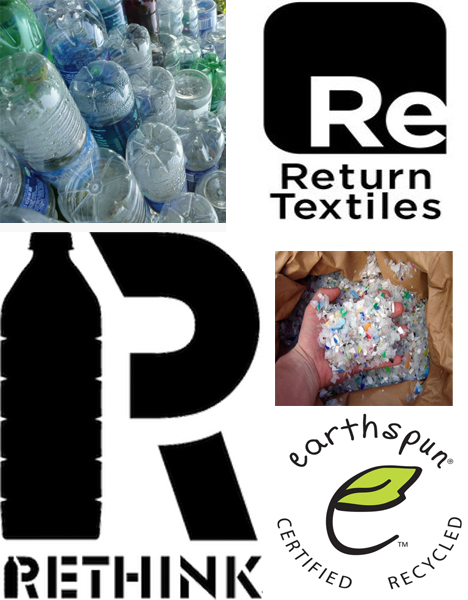 Our nation's recycling track record for one-time-use plastic bottles that hold our favorite types of on-the-go thirst quenchers leaves a lot to be desired. Focusing solely on portable water, close to
77% of the PET containers
that pass through our hands eventually become a part of our permanent municipal waste stream. On the positive side of things, that figure reflects the consumer behavior patterns of 2006 and eco-awareness has certainly increased since then. Or has it? Let's take a quick gander at the United States Environmental Protection Agency's
plastic recycling data for 2010
: Eight percent of the 31 million tons of plastic in America's waste stream was diverted from the landfill. Hey, what's going on here? It doesn't seem like we're taking this whole
reduce, reuse, recycle
situation seriously enough. Ask the average citizen what the Great Pacific Garbage Patch is and they'll likely be able to explain that it's just
one of several ocean-bound plastic pollution zones
that have materialized due to humanity's carelessness. We have certainly seen photographic proof that our plastic waste has become a main dietary staple for far too many marine species, and now we're learning that we inevitably ingest hormone-altering plastic chemicals once those critters land on our dinner plate. So, we know that we're part of the pollution problem and we're aware that consistently recycling plastic containers can pave the way for a greener, cleaner world, and yet U.S. citizens still throw away
2.5 million plastic bottles on an hourly basis
. Clearly, there is room for improvement. Thank goodness these eco-motivated companies are leading the plastic
trashion
movement by making greener duds out of our post-consumer waste.
http://www.youtube.com/watch?v=NLcuL24R-3c
Eco-product:
The New York-based company creates
Bionic Yarn
, an eco-textile made out of recycled plastic beverage bottles that a number of popular sports apparel, footwear, fashion and lifestyle accessory manufacturers use.
How is Bionic Yarn made?
Upon being recycled, PET beverage bottles are chopped up into small bits, melted into liquid, and then extruded into 2-inch textile core fibers. The resulting solidified, petroleum-based material is then covered with a helix-woven combination of polyester, nylon, cotton and Lycra fibers in order to create an extremely durable, easily tintable yarn.
Where can I find Bionic Yarn?
Major labels such as
Timberland, prAna, Moncler and Cole Haan have all utilized Bionic Yarn in select product lines.
Fun fact:
Grammy-winning musical artist Pharrell Williams — a highly outspoken environmental steward — is a partner and spokesperson for Bionic Yarn.
Eco-product:
The North Carolina-based company creates a sustainable line of hoodies, T-shirts, and polos crafted out of a combination of reclaimed plastic fibers (gleaned from old food trays, X-ray film, and one-time-use beverage bottles) and post-industrial recycled cotton.
How are Earthspun garments made?
In order to obtain
a uniform color palette, green-, blue- and brown-tinted plastic beverage bottles, as well as gray X-ray film and black food trays, are segregated into like materials categories, melted down and extruded into recycled plastic fibers that, when blended with recycled cotton, yield a surprisingly soft, comfortable, durable and quick-drying material.
Where can I find Earthspun garments?
Earthspun Apparel sells its green duds on various online marketplaces, including through its own website and via men's fashion emporium
Bonobos
.
Fun fact:
Each signature Earthspun crew-neck T-shirt, available in the
original pigment tone of the recycled material used to create it
,
utilizes an average of six-and-a-half 20-ounce
PET bottles.
Eco-product:
RETH¿NK creates casual and sports T-shirts as well as button-down polos crafted out of polyester fibers obtained from recycled PET beverage bottles.
How are RETH¿NK garments made?
Reclaimed, post-consumer beverage bottles are collected, sorted, cleaned, sterilized, chipped into small pieces, melted, extruded into very thin fibers and ultimately
woven into a high-strength textile.
Where can I find RETH¿NK
garments?
The recycled material manufactured by
RETH¿NK FABRICS
has been utilized
in T-shirts sold by Disney, the Black Eyed Peas, Yoga City and Brooklyn Industries, among others, but a collection of basic shirts can also be
purchased directly through its website
.
Fun fact:
RETH¿NK FABRICS sponsors the ongoing oceanic plastic pollution research expedition conducted by nonprofit organization
5 Gyres
.