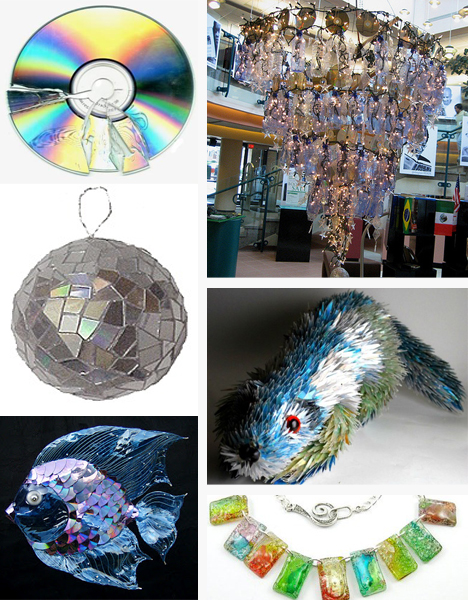 It has happened across the globe and certainly in our very own households: thermoplastic polymer has officially reached maximum saturation. Not familiar with it? Sure you are. It's that rigid, waterproof, durable, petroleum-based material (also known as polycarbonate,
plastic #7
or "other" plastic) that reigns supreme as modern society's preferred form of data storage. If you're a fan of music or home movies, then there are probably hundreds of shiny mirrored discs competing for precious real estate in your turf, some of which, for one reason or another, are no longer usable or desirable. They may be perfectly proportioned to fling effortlessly into the closest garbage can, but old CDs and DVDs are not doing our environment any favors. Their polycarbonate structure is achieved through the use of
bisphenol A
, the notorious endocrine-disrupting chemical that has raised so many red flags recently that the EPA is currently in the process of
assessing how it affects the natural world at large
. What we
do
know so far is that the chemical has already
infiltrated our oceans
— not a terribly good sign of things to come. Want to help the environment while having a bit of creative fun? The following are great ways to jumpstart your own personal compact disc recycling efforts.
Fashion ideas
Arts and crafts
Tech aids
Fun
Transportation
Home improvement
Household décor